As Disney Channel's 'Austin & Ally' Comes to an End, See How the Characters Have Changed (VIDEO)
After four seasons of Austin & Ally, this Sunday marks a milestone: the series finale.
Two back-to-back episodes will air, with the first ("Musicals & Moving On") seeing Austin (Ross Lynch), Ally (Laura Marano), Trish (Raini Rodriguez) and Dez (Calum Worthy) deciding their futures, while second ("Duets & Destiny") will show the gang back together, years later, sharing where their lives have ended up.
Before the final hour airs, Disney Channel shared an exclusive behind-the-scenes featurette of the four actors talking about their characters and how they have grown through the years.
For Rodriguez (who directed her first Austin & Ally episode last year), Trish has changed a lot, from the "loud, sassy friend who loved to tell people what to do" to a "big manager" who runs her own entertainment business. Ally has also changed a lot, and Marano says her "character's arc has been so amazing." In Season 1, Ally was paralyzed by stage fright, but by Season 4, she's become a bona fide superstar. As for the two guys, Austin has still retained his innocence even though he's also "grown up a little bit" while Dez is still a boy in many ways but one who's "a bit more smart," shares Worthy.
Watch the video below to hear the actors share more about their characters' journeys.
[jwplatform p4ghVtq8]
Austin & Ally, "Musicals & Moving On," 8/7c | "Duets & Destiny" 8:30/7:30c, Disney Channel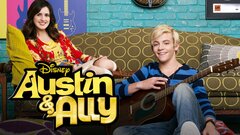 Powered by