New TNT/TBS Boss Kevin Reilly Wants More Prestige, Fewer Commercials on His Networks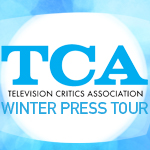 New TNT/TBS president Kevin Reilly is on a three-year plan to succeed in his extreme network makeover.
Reilly, who has spent the past year putting together a plan to give both TNT and TBS a fresh coat of programming, detailed his plans Thursday to reporters at the Television Critics Association press tour. It was his first time meeting the press in his new job, having previously served as Fox Entertainment chairman.
"We're sprinting, but it's a marathon," Reilly said of the changes he's instituting at both networks. "Three years from now, TBS and TNT will be radically different businesses than they are today. The programming profile with be radically different."
Reilly is aggressively moving TNT away from its bread-and-butter mix of crime procedural dramas, announcing that this summer's 13-episode season 7 of Rizzoli & Isles will be the show's last. Major Crimes and The Librarians will continue, but Reilly's focus at TNT is now on more prestige, serialized drama.
"The artform of the medium has been fulfilled," he said. "This is where we're setting our sites. Series that are less by-the-book and more muscular. We're looking to muscle our way into the top consideration set of the best on television. And hopefully knock out some competitors as well."
Shows premiering this summer include Animal Kingdom, starring Ellen Barkin as the matriarch of a crime family in Southern California, and also starring Scott Speedman and Shawn Hatosy. John Wells produces.
Another summer series, Good Behavior, is a thriller starring Downton Abbey's Michelle Dockery as a con artist. Also Thursday, TBS announced a new deal with M. Night Shyamalan to produce a reboot of the Tales from the Crypt franchise.
RELATED: More About Good Behavior and Animal Kingdom
At TBS, the comedy network's evolution begins this month with the unconventional 25-hour marathon premiere of Angie Tribeca, starring Rashida Jones and from executive producer Steve Carell.
"The comedy void has been in our favor," Reilly said of flipping the channel's comedy tone. "Overnight a who's who started coming in the door at TBS. Up-and-comers to the very best of the best, the Steve Carells and Rashida Joneses of the world. We ordered seven series."
Other new shows include The Detour, starring Jason Jones (The Daily Show); Search Party, starring Alia Shawkat (Arrested Development); and the Lost parody Wrecked. TBS just ordered the comedy People of Earth from Conan O'Brien's production company.
"It's going to take time for us to earn our stripes," Reilly says of the TBS changes. "I expect modest ratings initially…. I think we will very quickly be the destination for comedy. 'Quickly' meaning two years."
Also at TBS, Reilly is bullish on E League, a e-sports business that Turner has launched with IMG and Valve. The video gamer series will center on two 10-week seasons, with a daily game online and a game-of-the-week on TV.
"The growth (of e-sports) is absolutely mind-blowing," he says.
Reilly also announced an initiative to dramatically decrease the commercial load on TNT. He told reporters that TNT's new dramas will air with fewer ads, allowing for as much as 10 more minutes of additional program time.
In other news, Reilly confirmed that TNT would not continue with the development of Titans, from DC Entertainment. And he said the canceled drama Public Morals, from Ed Burns, was likely caught up in the network's transition. But, he added, "the proof is in the pudding, and the performance wasn't quite there."