Unexpected 'Angel From Hell': Jane Lynch and Maggie Lawson on Life's Guardians (VIDEO)
https://player.waywire.com/?id=FX00BP3N37P57CW0
In Angel From Hell, a career-driven doctor named Allison (Maggie Lawson) suddenly finds herself in the presence of a guardian angel named Amy (Jane Lynch). Except Amy is not your usual kind of fluffy, sweet guardian angel.
"I'm an alcoholic. I may live in my car. I smell a little homeless," describes Lynch of her character. But whether Amy is an actual angel is hard to say, but she latches onto Allison's life to prevent her from "going down the wrong path."
RELATED: Jane Lynch on Playing a Not-So-Heavenly Host
When asked if either star believes in the existence of guardian angels, Lawson shares animals and pets are, as well as forms that can't be seen or touched. As for Lynch, an angel can be "that moment [when] something felt like a big no, and all of a sudden, it's a huge yes, and it feels so right and creates a space inside of you…I think those are the guardian angel moments in your life."
Watch the video above to meet the rest of the Angel From Hell cast and their angels.
Angel From Hell, Premieres Thursday, Jan. 7, 9:30/8:30c, CBS
---
Questions? Ask Critic Matt Roush!
TV critic (and occasional TV therapist) Matt Roush answers viewer questions and concerns in his Ask Matt column each week. Wondering about plots, characters and twists on your fave shows? Submit your query to Matt via the form below: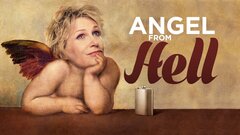 Powered by