'Angel From Hell': Jane Lynch on Playing a Not-So-Heavenly (and Liqueur-Drinking) Host
Fresh off six years of Glee, Jane Lynch is trading her tracksuit for wings—figuratively, if not literally. On Angel From Hell, she plays Amy, the brash, alcohol-swigging guardian angel to a young woman (Maggie Lawson) who's worried that Amy might be a psychopath stalker. Lynch explains how she joined the not-so-heavenly host.
Where did Amy come from?
I have some idea. It's not concrete; it's just a feeling I have about where this woman is in terms of her evolution as an angel and what her objectives are. I remember the wardrobe person said to me, "We're assuming this character died in the late '70s, so let's…" And I said, "Really? Where did you hear that?" She said, "I don't know, I think I made it up." [Laughs]
Do you see any similarities between Amy and your Glee character Sue Sylvester?
Yes, Sue had a hard crusty exterior and could be extremely vicious, but it was a very brittle shell covering a very tender heart. With Amy, she's completely in touch with her tender heart, which is pounding and fleshy and messy.
What would you say if someone walked up to you on the street and told you they were your guardian angel?
I'd take her for a spin. I wouldn't pass it up. I once was at a restaurant many years ago, talking to a guy, and we were sitting at the counter. He was a little bit of an odd dude—he was kind of a weirdo. He started talking about tarot cards, and I love s–t like that. So we were kind of going back and forth, and then he stopped me and he said, "Jane, what would you like to know?" And I got the feeling right away that this is a nut. And I said, "Nothing. I don't want to know anything." But you know what, I may have walked away from my guardian angel.
RELATED: More New Shows Premiering in Winter
Have you ever felt like you had a guardian angel?
I have a friend who, although she never gave me any information and she was a new friend at the time, I would sit in front of her and start to tell her my story, whatever I was bugged about. She would just look at me with this immense compassion, and it was like she was a mirror for me, and I would really hear myself. All thought would stop, all connection to whatever story I was telling would stop, and I would just start speaking the truth. She still has that power over me, in a good way.
What about the reverse? Do you ever feel like you're playing guardian angel?
I'll get a sense that I am, and I have to tell myself: "Relax, relax. Don't start talking. Just be a mirror. Just be a mirror for them." Like, I have nieces, and they'll be telling me something, and I just have to stop myself from giving advice and just sit there in compassion and give a space for them and have my heart open. And they usually end up saying thanks for the advice.
Your character pops crème de menthe like it's Aquafina. What is your position on the liqueur?
Actually, I chose crème de menthe. It was Rumple Minze in the script. My parents used to drink these concoctions called grasshoppers when I was a little kid. It's ice cream and crème de menthe, and it turns into this really green, frothy thing. We would drink it, too, as kids!
When's the last time you had it?
I'm actually 24 years sober. I haven't had a drink in eons, which I think is interesting [since] I'm playing an alcoholic. [Laughs] Well, maybe she's an alcoholic. I think she's transcended addiction.
https://www.youtube.com/watch?v=t6jIqdXmfWc
Angel From Hell, Premieres Thursday, Jan. 7, 9:30/8:30c, CBS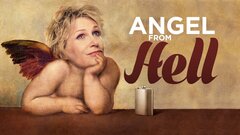 Powered by