'Good Behavior': Michelle Dockery Breaks Bad for New TNT Drama
The elegant table settings, with gold-rimmed plates and white silk peony centerpieces, strike an incongruous note in a Wilmington, North Carolina, bar where beer flows freely and a fight, like the one about to break out, represents just another night.
Equally out of place? An elegant brunette (Michelle Dockery) striding angrily through the joint, aiming to throw out an unwanted visitor. Only she fits in more than she'd like. Letty Raines, the damaged center of the new TNT drama Good Behavior, is an alcoholic, drug-abusing ex-con whose life is aptly summed up by a banner seen hanging in the bar: "No one knows that country could hurt so much."
For her first TV role after Downton Abbey's high-toned Lady Mary Crawley, Dockery chose this sexy noir based on a novella series by Blake Crouch, whose writings also inspired the Fox thriller Wayward Pines. On a break in the Wilmington restaurant where a wedding scene is being filmed, the 34-year-old British actress is clearly loving her new digs, breaking into an impromptu dance with Lusia Strus, who plays her estranged mom, Estelle.
"Michelle is the opposite of posh," says executive producer Chad Hodge, who also ran Pines. "She's the most down-to-earth, hilarious woman, while also incredibly smart." Though hiring her for the gritty role wasn't obvious to everyone else, Hodge knew early on that Dockery was perfect for Letty. "I was confident that this actress could do anything—and she can."
RELATED: TNT Greenlights Tales From the Crypt Reboot
Dockery is thrilled to inhabit this challenging character. "After Mary, this is very freeing, because Letty is raw," she says. "She's a very good con artist. Part of the high for her is playing someone else, fooling [a mark] and getting away with it." At the same time, she has to be good so she can at least be allowed to visit her son, who's been in Estelle's custody since his mother's recent stint in prison. Encouraged by her supportive parole officer, Christian (Oz's Terry Kinney), Letty immerses herself in self-help affirmations while fighting her urges to drink, smoke meth and steal all that appeals to her.
No matter her resolve, Letty won't be totally in control of her decisions anytime soon. Interrupted while robbing a hotel room, she hides in a closet and overhears hit man Javier Pereira (Juan Diego Botto) agree to kill the occupant's wife. Letty tries to do the right thing and save the targeted woman while conning Pereira, but he's more than her match, and she finds herself inextricably bound to him.
"He may murder people for money, but don't mistake Javier for a sociopath," insists Botto, a Madrid-based TV and movie star. "He's not proud of what he does, and he tries to justify it by only killing those who have it coming."
Besides the obvious lure of working with "the generous and superfunny" Dockery, the intense actor says he was drawn in by "the story of how this addict and hit man begin to need each other and then fall in love. They're not your usual romantic leads." But it works, says Hodge. "They produce a chemistry I haven't seen in a long time. Think Bonnie and Clyde from Bonnie's point of view."
Dockery is still delving deeply into this complicated and chameleonic Southern grifter. "Her best friend [on the show] says to her at one point, 'You don't belong in the world of normal people,' a very accurate description. She can't just have a normal life—having a job, kids—it's just not enough in some ways," says the actress. But rest assured, this juicy role proves to be more than enough for Dockery.
Good Behavior, Series premiere.Tuesday, Nov. 15, 9/8c, TNT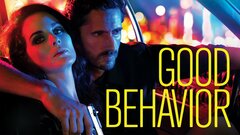 Powered by