'Second Chance': Getting Another Shot at Life, in a (Much) Younger Body
They say there are no do-overs in life, but Rob Kazinsky is certainly getting one in his new sci-fi drama. The True Blood vet stars as Jimmy Pritchard, a deceased 75-year-old lawman (Philip Baker Hall) brought back to life in a younger, buffer body by a pair of high-tech siblings with a mysterious agenda. And while the show has had more name changes than P. Diddy, it sounds like even more renovations lie ahead.
How is it, playing an old man in a young body?
The beauty of this is that the character undergoes a complete regeneration. So I definitely stole a little bit from Philip and made sure to watch everything he did at the beginning of the pilot, but then I was able to create my own Jimmy after the first few episodes and evolve him.
So you got a second chance too?
Yes! They kept changing the title of the show, and when people would ask us about it, we would all say, "Well, it's kind of about second chances." Now that they've changed the title to that, we look a little bit stupid. Second Chance is right on the nose…maybe a little too much! [Laughs]
First it was The Frankenstein Code, then Lookinglass…
The thing is, we moved away from the Frankenstein idea a long time ago because it was a disingenuous title. As things tend to do, the story changed away from whatever it is we do in the pilot. It's something very different now.
Tim DeKay plays Jimmy's FBI agent son. How does one go about playing dad to a guy older than him?
I felt like such a child next to Tim! He's a good father to his own kids, so whenever I'd do scenes with him, I would find myself naturally taking a subservient role. It was a constant battle between who I am and who I was playing! [Laughs]
https://www.youtube.com/watch?v=0XfujuzhmCs
Second Chance, Series premiere, Wednesday, Jan. 13, 9/8c, Fox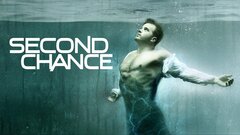 Powered by