'The Biggest Loser's Bob Harper Talks 'Being a Host on Steroids'
Season 17 of weight-loss competition series The Biggest Loser is all about familiar faces in new situations. Survivor winner Richard Hatch and The Voice's Erin Willett are among the contestants, while trainer Bob Harper replaces Alison Sweeney as the show's host. We caught up with Harper to get the skinny.
After years of being on the other side of the scale, what's it like playing host?
It's a lot of fun. I get to control everyone, which is something that I've tried to work on in therapy and hasn't worked. So it's definitely a good fit. [Laughs]
I'm glad you found a job that caters to your strengths.
Yes, absolutely. [Laughs] But what's so great about it is we've really changed this show. It has a completely different feel. It wasn't just like, "Take Alison Sweeney out and put Bob Harper in." It's like being a host on steroids.
How so?
What I really wanted to do is highlight the fact that when you're in that house, it's a rehab center. So it's me having group-therapy sessions, for lack of a better phrase, talking about what really brought them here. I wanted the show to be as raw as possible, and that's what we did.
Can you be kept out of the gym?
I'm very involved in the gym too. I have no problem speaking my mind. And the trainers are on edge at the weigh-ins because I'm going to give my opinion. I know if a trainer is phoning the week in, and I'm going to call them out on it. Dolvett [Quince] even said once, "I felt like you threw me under the bus." I was like, "I'm working at 100 percent; I expect everyone to do the same." They didn't think I would come in with guns blazing.
The Biggest Loser, Returns Monday, Jan. 11 9/8c, NBC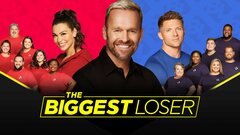 Powered by