'Limitless': Jake McDorman Previews Brian's Close-to-Home Threats
Limitless' Brian (Jake McDorman) can't catch a break.
Just one episode after Brian was held at gunpoint—by Casey (Desmond Harrington), who was on NZT and who was then quickly killed by Boyle (Hill Harper)—he's in danger again: Senator Eddie Morra (Bradley Cooper) pops back into Brian's life on January 5.
"I think the last time Brian saw Eddie, his intentions became even more murky," McDorman says. "I think before, he was really scared the senator had sinister intentions, especially since he had threatened Brian's well-being, and the well-being of people Brian cared about, if he didn't do his wishes."
"But then the last time Brian saw Eddie on the roof, [their conversation] put him at ease," he continues. "Obviously, as an audience, we know there's still some sketchy business going on. But as far as Brian's perspective, I think he was able to relax into a bit of, 'Maybe he's not such a bad guy. Maybe he's in big game politics, and if you want to make an omelet, you have to break some eggs. He actually cares.'"
Unfortunately, not everyone shares Brian's view—an attempt is made on Eddie's life by a mysterious new player, Piper (Georgina Haig). Morra claims she's disgruntled, but "when Brian meets Piper…it kind of throws [everything] back into question," McDorman allows. "I think he would love to think she's batshit crazy. I think that would be so nice. I think he would love to believe Morra's narrative, that she's this rogue agent who has it out for the senator, because the effects of NZT made her crazy, and Morra's the victim here."
But Piper insists that Eddie is dangerous and needs to be stopped. "In actually talking to her, she mirrors a lot of his own insecurities, and she's the first person he can talk candidly to about everything that's going on that's not Senator Morra and Sands," McDorman says.
Piper goes to extreme measures to get her point across to Brian—including meeting his family. (Piper's actions lead to a mini-Fringe reunion for Haig and Blair Brown, who plays Brian's mother, Marie, and who played Etta and Nina on the Fox series.) But even still, Brian finds himself intrigued by Piper. "I think he has this unexpected confidant in her, even though he doesn't know what to think—she's probably dangerous, and she's certainly dangerous to be around and allying with, in terms of his relationship with the senator," McDorman says. "[But] I think it has to be a little bit of a relief to be like, there is someone who knows what I'm going through. I think the whole episode is him gauging her. He knows she's dangerous; whether she's dangerous directly or indirectly, she's a huge risk to be around. And both her and the senator and Sands are pulling him in opposite directions."
Adding to the already-stressful situation is the fact that the FBI—including Rebecca (Jennifer Carpenter)—is brought into the case after the attempt on Eddie's life. As Brian struggles to keep the different sections of his life separate, "he does a thing where he plays out all different scenarios that could go on," McDorman previews. "I think that's a way to illustrate [things]…his mind is kind of racing with all the different possibilities of how bad that could go for him. I think Brian thinks he has Sands at a healthy distance, all things considering…this episode is another example of that coming down like a Jenga tower… [The situation] keeps him guessing, it keeps him spinning those plates, like he's been doing."
But will he be successful?
Limitless airs Tuesdays at 10/9c on CBS. And be sure to check back with TVInsider.com after the episode for more from McDorman.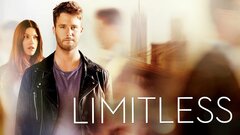 Powered by