'The Path': Hulu's 'Faith Thriller' Examines Religion's Dangerous Side
Religious fervor goes under the microscope in The Path, Hulu's "faith thriller" from executive producers Jessica Goldberg and Jason Katims, who previously worked together on NBC's critically adored Parenthood.
When the series opens, Sarah Cleary (True Detective's Michelle Monaghan) is absolutely passionate about her marriage to the devoted Eddie (Aaron Paul, in his first series role since Breaking Bad) and just as passionate about the Path, the seemingly benevolent, New Agey cult she was born into.
RELATED: More New Shows Premiering in Winter
Created in the 1970s by disaffected Army shrink Stephen Meyer (Keir Dullea, of 2001: A Space Odyssey fame), the sect is a redolent stew of drug-fueled mysticism and contemporary End Days prophecies of climate change and terrorism.
To Doc Meyer's followers, "the only way to escape the coming man-made cataclysm and be reborn into a Garden of Eden is to follow his spiritual exercises," Goldberg explains. The elderly guru is currently nowhere to be found, but the faithful believe that he's somewhere quietly "transcribing" his final revelations from God.
Sarah may be in the movement's top leadership, but snakes quickly appear in her seemingly perfect garden. And when Eddie returns from a retreat in Peru, he seems somehow changed. "She believes he's transgressed—had an affair," Monaghan explains, "and she starts to doubt him. Her safe world seems less so." Suddenly unmoored, she turns to Cal (Hannibal's Hugh Dancy), the interim leader in Meyer's absence and, in Goldberg's words, "a man with Shakespearean ambitions." He was also Sarah's teenage boyfriend and their romantic feelings are soon rekindled. "There will be a very sexy love triangle," Goldberg promises.
As for Eddie, he may be transgressing, but in a more emotional way as a result of a disturbing vision he had in South America under the influence of a potent hallucinogen. What he believes he knows will kick off the show's central mystery.
"What's interesting about the series," says Monaghan, "is examining how religion can be a mask for what's really going on." But don't expect a diatribe here. Says Goldberg: "Extreme faith is something [the world] grapples with, and we wanted to present how religion can function as a frame for living and, at the same time, be a danger."
The Path, Premieres Wednesday, March 30, Hulu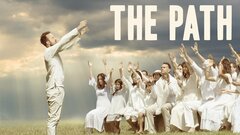 Powered by