'Superstore': America Ferrera Dons a Blue Vest as a Big Box Manager
In 2006, America Ferrera slipped on a pair of glasses and a set of braces and transformed into a critical darling on Ugly Betty. Now, a decade later, she's returning to TV as the anchor of NBC's new ensemble comedy Superstore, about the shenanigans that take place among the employees of a Walmart-esque big box. We caught up with Ferrera, who plays the sensible floor supervisor Amy, to unpack what's going down in the quirky comedy.
RELATED: More New Shows Premiering in Winter
How are you shooting this? Did you guys build an actual store?
For the pilot, we shot in a real Kmart that was open and functioning while we were filming. So we had customers and employees walking in and out of our scenes all day long, which was fun but not a sustainable model! [Laughs] When the pilot got picked up, this amazing production designer built a store on two huge soundstages. You walk in, and you're in a store.
In between takes, do the actors fool around like kids in a toy factory?
Oh my God, all the time. It's so hard not to touch everything. We have a lot of donated products, with a lot of local, really high-end stuff. I want all of it! But we're not allowed to take anything home.
RELATED: Roush Review: Superstore Is a Comedy Bargain
Before becoming an actress, did you ever have a job similar to this one?
My mother worked at a hotel, so I had many odd jobs in that hotel. I worked in the housekeeping department, I worked at the front desk, I did customer-service stuff. That kind of muscle memory for dealing with customers and the craziness that comes with it when you're in the hospitality industry is ingrained in me.
Did you meet with any box-store employees in the real world to learn the specifics?
I went for a few sneaky trips to superstores. I have to say, I couldn't have been less smooth about trying to get people to talk to me. I would ask, "Do you know where I can find this shirt?" and then be like, "Did you go to college?" And they're looking at me like, "Uhhh, sorry, what?" There was one gal [whom I asked], "Where's the bathroom?" and she was like, "That way." Then I asked her, "How long have you been working here?" and she was like, "Aren't you that girl from Ugly Betty?"
https://www.youtube.com/watch?v=LdjxwSrPKgQ
Superstore, Series premiere, Monday, Jan. 4, 8/7c, NBC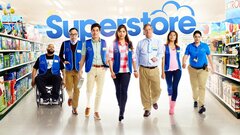 Powered by