'Arrow': Juliana Harkavy Teases Dinah's New Dilemma
Trouble is never in short supply in Arrow's Star City and Thursday night, a disturbing new wrinkle sure to shake up Oliver's band of heroes develops just as Black Siren (Katie Cassidy) steps up her attacks on the team. Without spoiling the storyline, it has something to do with Diggle (David Ramsey) that only Dinah (Juliana Harkavy) is privy to…for now.
So how does the new Black Canary feel about keeping Digg's big secret? According to Harkavy, it sounds like she's more comfy throwing down with Black Siren than covering up for her colleague.
This is a very big action episode for you. Canary and Black Siren fight like three times! How intimidating is all of this?
You know, it's amazing because, well, when I first walked in, yes, I was very intimidated, I was very nervous. But Katie made it so—well, everybody in terms of the show—but in terms of those fights, Katie made it very comfortable and literally just the second I walked in and saw her she gave me the biggest hug and was like, "I just want you to know how welcome you are here and everybody is so happy to have you." She really was warm and loving. So immediately she made it easier and took away that sense of nervousness.
And that also probably helps filming those fights sequences because those can be long days.
It's true, yeah, those are the longest days. But our relationship on set, the cast, the crew even with the stunt team, we're all friends. We all are laughing and loving what we do and we want to be there so it really helps the days go by faster.
You get involved in a storyline this week that can really effect the dynamic of the team.
With what's happening with Diggle (David Ramsey)? Right, right. I think Dinah is very aware of that and wants to get to the bottom of it quickly. Because with this team, if one person is compromised the whole team is compromised and it's gonna be a matter of loyalty versus honesty. I think that's a really tough one for Dinah. Because she was keeping her secret with Quentin (Paul Blackthorne), it's like she doesn't want to be hypocritical, but on the other hand, somebody could get hurt.
Do you feel she's at that place now where all of her loyalty should lie with Oliver (Stephen Amell) or with the team?
I think it's always sort of a balance with the two. Oliver is always the head of the team and the very first thing the team needs to respect together in order to make it work is that Oliver is the captain. But on the other hand, as a member of the team, you also have to be sensitive to the other members of the team and if they have their own personal struggles and their own things. So it's a balancing act, being true to the team, true to Oliver and then also honoring what everybody's going through as an individual.
How have the fans been with you as far as accepting you as Canary? There have been so many!
[Laughs] And for that reason especially, it's even more incredible to me that people have been so kind and so accepting and just so willing to give Dinah a chance and listen to her story. There's, of course, those who…you know, there's this sort of "it's either Laurel or Canary," like there are these teams. But to be honest with you, I kind of like that, too. It's like a sporting team. So when people are like, "Oh, she sucks," that doesn't really upset me either, because it's like I get it.
And what's ahead for Dinah's personal life?
I think it's time for her to find a little balance. She's so obsessed by her pursuit of justice, it fuels her. And while it's great to have that most of the time and for the show, it's great to see, I'm also really excited to see the other side of her. She's a complex person. I have my own little backstory for her that's just in my own mind, so to be able to maybe see it through is really fun. And this year, I think that a love interest would be part of that. I'd like just seeing another side, a softer side…
Something or someone that would also give her something to fight for. Whenever the characters have something going on in their lives, the stuff that they're doing, the crime-fighting, it becomes more important.
Yeah, that's a great point. I love that. Honestly, I'm not going to forget that. Because I really like that and it's true. You need that personal side to prop up the other side, it's like the yin and yang.
Now, I have to ask. You and Katie filming these fight scenes…that's a lot of leather to be working in.
[Laughs] Everyone's dream!
Oh, I'm just thinking comfort.
It's funny, because all the costumes are a lot more breathable and comfortable than they look. Even the shoes I wear are; they look like they have spikes at the tips but they're actually rounded tips you add on, almost like a prosthetic. And the costumes themselves, they're leather but there's all this incredible material that makes them feel like leggings. So we get to look really cool and be comfortable at the same time, which is more than you could ever ask for in a full-blown leather suit. [Laughs]
Arrow, Thursday, 8/7c, The CW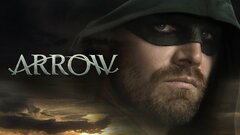 Arrow
where to stream
Powered by