OMG! Bianca Lawson Explains Major 'Queen Sugar' Bombshell
[Spoiler Alert: Do not read ahead if you haven't watched this week's episode of Queen Sugar on OWN. Major plot points discussed ahead.]
If any scripted series needs lessons in how to drop a big storyline bombshell that will have repercussions for episodes to come, look no further than Wednesday's episode of Queen Sugar.
Besides the unexpected reunion between Nova (Rutina Wesley) and her past lover, Calvin (Greg Vaughan), Darla (Bianca Lawson) finally got the one thing she wanted the most and also feared—having her parents (Michael Michele, Roger Guenveur) come for a visit. For weeks, Darla has been leaving her estranged parents messages saying that she's clean and the she's engaged to be married to Ralph-Angel (Kofi Siriboe). They had not responded until the latest episode, when they showed up to meet their future son-in-law but also to clear up a lot of family tension.
And while the reunion with both her mother and father were tough, they all came to a better place of understanding. However, talking to her father about making amends in recovery hit home for Darla, who ended the episode by telling Ralph-Angel something she'd been holding as a secret for years—that Blue may not actually be his son after all. OMG!
Lawson talked to TV Insider about the storyline bombshell and what it all means.
Let's start right off with the shocker that Blue may not be Ralph-Angel's son. Do you think it's something she wished she had told him a long time ago?
Bianca Lawson: I really thought about that. Why didn't she say something? And I felt like they were both going through a lot. He was in jail. She was on drugs and everything was kind of all over the place. She was alone and I think there's something about that hope of wanting it to be his child and truly kind of convincing yourself. And it's not like "there's this other person that…" She was blacked out. She didn't know what was going on. She ended up in the hospital with her stomach pumped.
I feel like they, Ralph Angel and Blue, it's such an extraordinary love affair that they have. They are each other's soulmates and—it's going to be a controversial way to think about this—but it's almost like she gave them both this gift. This child kept him on the straight and narrow and gave him this thing to focus on and this extraordinary love. And so, would you rather have an omission or a lie? I feel like I would take the lie because it's almost like Blue loves Ralph Angel so much and Ralph Angel loves Blue so much and as horrible as it came about possibly, it was sort of like a gift to each other.
And they really do love each other.
When it comes down to it, is family blood? Is it DNA? Or is it the people that have your back that love you, that are there, do everything unconditionally. I know, I have friends that had horribly abusive parents and that was their blood relatives but they had mentors or other people in their lives that were far healthier parental figures.
Earlier in the episode, you are together with Ralph-Angel and his sisters and Blue and Aunt Vi. I kept thinking this is their moment to be happy before the big drama comes in.
Isn't that like life, though? It's like, "Oh, my God, everything is so perfect!" I was just sad for Darla. She could have said nothing and everything would of been great but I think she had to tell him. She had to and for her to be carrying all of that. It's like the last amends. That last one but that major one and you could lose everything.
Speaking of family, there are some powerful scenes between Darla and her parents about forgiveness and making amends. Then she goes and tells Ralph-Angel the truth.
If you truly want to stay sober you can't have any secrets. You can't have anything that's eating you up inside silently because that will be a trigger at some point. If you're really going to truly heal and truly move forward, and you're really working your steps and you're really serious about changing your life then you can't cherry pick what amends you do. You have to do it all.
So many great scenes in this episode, but which was the harder scene to shoot? The one with you and Kofi or Michael Michele?
I know, I know! Michael was all like, "Bianca, when you wrap this, please, for me, go dancing. Go have fun." With the Michael Michele scene, I wouldn't say it was easy but the one with Kofi was harder. The one with Michael, it just flowed for me. I didn't have to look for anything. But the one with Kofi was really hard for me. I can't even tell you what I felt. Maybe that's like real life when there's something so overwhelming to your nervous system because it's such a heavy piece of information. I think it takes a moment to process.
So by the time I got to set, I was so calm and I was like, "why do I feel so calm right now?" It was difficult for me because this is such a major thing and not something I knew about way ahead of time. I knew about it right before the script came out. And I can't even tell you what I was thinking. I was just in the moment. I don't even know. It was like when you make a decision you're going to do something, you just do it.
Queen Sugar, Wednesdays, 10/9c, OWN.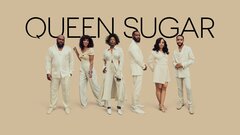 Powered by