First Look at the 'Roseanne' Revival: ABC Releases Behind-the-Scenes Cast Photo
The dysfunctional-yet-lovable Conner family is back, and late Tuesday, our first look at the cast and crew of the Roseanne reboot was released.
In the new photo, the production team, director, and actors are caught cracking up during a table read on the set. The photo includes, clockwise from left: John Pasquin (director), Laurie Metcalf, Roseanne Barr, Michael Fishman, Jayden Rey, Bruce Helford (executive producer), Whitney Cummings (executive producer), Sid Youngers (co-executive producer), Sarah Chalke, Lecy Goranson, John Goodman, Sara Gilbert, Ames McNamara, and Tony Hernandez (executive producer).
It's perfect timing for ABC to release the image, since October 18 is the 29th anniversary of the premiere of the iconic sitcom Roseanne. The series originally aired on ABC in 1988 and ran for nine seasons, with the finale airing in 1997.
In that original finale, Dan Conner died. But don't worry; Goodman's character is back in the reboot. "I don't want to talk too specifically, but I wouldn't say we'll ignore the events of the finale. Dan is definitely still alive," said ABC Entertainment president Channing Dungey at a Television Critics Association panel in Beverly Hills on August 6.
Someone not present among the cast in this first photo is The Big Bang Theory's Johnny Galecki, who originally played Darlene's husband. It's not yet clear if he will be joining the reboot. Galecki's on-screen wife, Sara Gilbert, told TV Line, "We are in productive talks [with Johnny] and are hopeful it will work out."
The revival's premiere episode is called "Twenty Years to Life." The series is set to air in 2018 on ABC with an eight-episode run.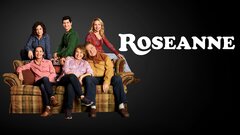 Powered by