'This Is Us': Kate the Secret Keeper (RECAP)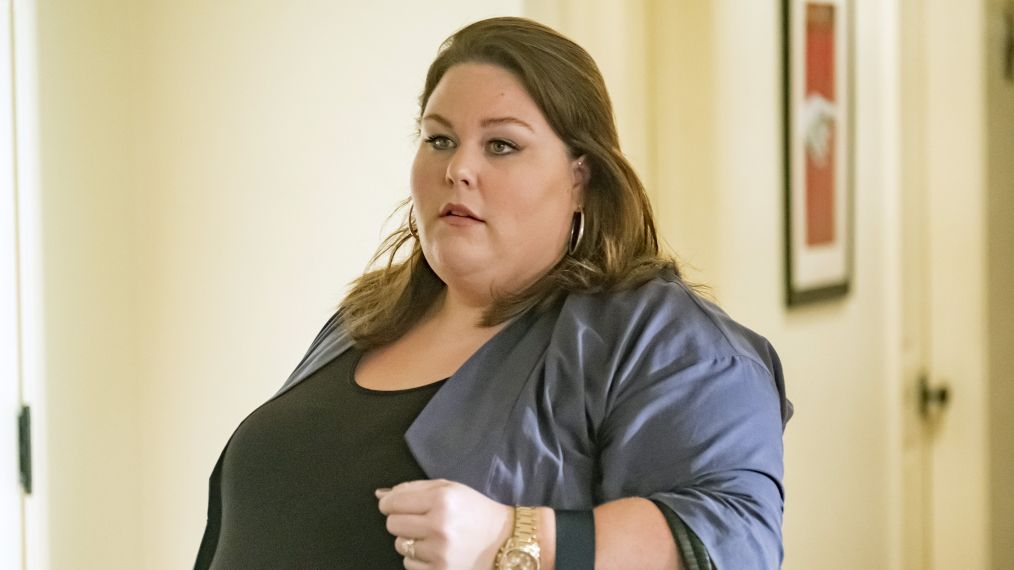 [Spoiler Alert: This recap contains spoilers from "Still There," Episode 4 of This Is Us Season 2.]
Since the second season of This Is Us premiered last month , there has been no shortage of shocking revelations about the Pearson family. But this week certainly takes the cake. The shocking revelation has nothing to do with Jack's (Milo Ventimiglia) death, nor the struggles that Kevin (Justin Hartley) and Randall (Sterling K. Brown) are facing, but everything to do with Kate (Chrissy Metz).
At the end of the episode viewers learned that this member of "The Big 3" is about to expand her family. Yes, Kate is pregnant, and it doesn't look like Toby (Chris Sullivan) knows yet. The shocking reveal certainly explains her odd behavior throughout the episode. The first indication that something is different is when Toby remarks on Kate's sudden increase in exercising and dieting—he thinks that she is being too hard on herself. Kate's response to Toby's concern is that she is about to work her first real singing gig and wants to look her best.
Then, shortly after Kevin's knee surgery, Kate heads out to a yoga class despite Toby's insistence she skip it. Later she is seen in the vitamin aisle of a drugstore, and suddenly the mystery is coming together. According to the revealing scene at the end of the episode, Kate is six weeks along in her pregnancy. But why is she leaving Toby in the dark? Most likely because this is a high-risk pregnancy. However, this being This Is Us, it's likely Toby will probably find out sooner rather than later. Her preoccupation with healthy habits obviously correlates with her desire to have a successful pregnancy, and she remarks on these habits in the final scene at her ultrasound appointment.
While Kate's news is the most shocking in this episode, the rest of the Pearson clan was dealing with plenty of other problems. After being injured in last week's episode, Kevin must face a surgery that could derail his film with Ron Howard. It was hinted that Kevin may have difficulty with prescription pain pills, and his refusal to take them after his surgery only supports the idea that Kevin could have had prior struggles with addiction. And we know dad. Jack, was an alcoholic.
Kevin also makes a comment that he won't let the knee ruin his life again, saying that the first time it was injured, his chances of being a star athlete went out the window so he turned to acting. The pressure Kevin is putting on himself to get better shows that he doesn't want to let the acting part of his life slip away. Eventually, Kevin takes the pain pills and is back on set, but the problem is likely to pop up in future episodes.
Meanwhile, Randall and Beth (Susan Kelechi Watson) are dealing with the challenge of raising their foster daughter Déjà. The couple notices that she has been exhibiting unhygienic behaviors, specifically when it comes to her hair. When Randall takes Déjà and the girls to a bowling alley, a fight breaks out after a stranger comments on Déjà's hair. Beth decides that she needs to take the matters into her own hands, having a heart to heart with Déjà who is scared that she'll be kicked out of the house for the bowling alley fight.
When Déjà finally opens up to Beth, the reason behind her dirty hair is obvious. Déjà is self-conscious because she has alopecia, resulting in bare patches on her scalp due to stress, but eventually lets Beth clean and braid it. Later on when Randall tries to talk to Déjà about her anxiety, the conversation doesn't go well, and leads to a dramatic haircut that Déjà fashions herself. Clearly Beth and Randall will have a long road ahead of them, but they continue to be patient with their new family member.
Finally, Jack and Rebecca (Mandy Moore) have to deal with her mother visiting town after the kids catch chicken pox. From the beginning it is clear that Rebecca's mother treats Kevin and Kate differently from Randall, and Rebecca has to face the harsh truth that her mother is a racist. While viewers have seen the dark side of Jack's father, they got a taste of how harsh Rebecca's mother can be. As always Jack is the one to save the day by digging out Rebecca's mother's car, which had been buried by a snowstorm, in order for her extended stay to end immediately. Before leaving, Rebecca's mother makes an attempt to fix things, but it will be interesting to see if she makes more of an effort to get to know a young Randall as the show progresses.
This Is Us, Tuesdays, 9/8c, NBC
Powered by