Celebrate 'Steven Universe's Birthday Week With All New Episodes (VIDEO)
t70nXbNT
It may be Steven Universe's birthday, but it's the viewers who will be getting the real present!
Cartoon Network has announced that it's kicking off the new year with a week of all-new episodes starting Monday, January 4 and ending Friday, January 8. And based on the clip of an upcoming episode ("The Answer"), looks like the animated series will be answering a few questions about the Gems' homeworld—including how Ruby and Sapphire met!
The new run of episodes will pick up where October's episode left off, with Steven and the Gems—along with reluctant ally Peridot—attempting to drill to the center of the Earth to save the world from the Cluster, a giant group of gem shards that have been incubating deep within the planet's core.
Read the episode descriptions below to see what's coming up during Steven's big birthday week:
The Answer: Garnet finally tells Steven the story of how she came to be a Crystal Gem. (Airs Monday, Jan. 4)
Steven's Birthday: Steven has a birthday party at the barn and decides he has some growing up to do. (Airs Tuesday, Jan. 5)
It Could've Been Great: The Gems take a trip to the moon. (Airs Wednesday, Jan. 6)
Message Received: Steven has some doubts about believing in everyone. (Airs Thursday, Jan. 7)
Log Date 7 15 2: Steven sneakily listens to a friend's audio diary. (Friday, January 8th)
Watch a clip of the "The Answer" above to get ready for the epic party week.
Steven Universe, Returns Monday, Jan. 4, 5:30/4:30c, Cartoon Network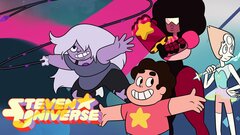 Powered by