Watch My Show: Neil deGrasse Tyson Brings the Universe Down to Earth, on TV
Neil deGrasse Tyson, host and executive producer
In the crowded field of late-night talk show hosts, only one is an astrophysicist. Neil deGrasse Tyson bridges the gap between science, politics, media and pop culture on his weekly series, based on his popular podcast. Celebrities and pals like Bill Nye the Science Guy join Tyson to give their spins on each episode's themes. So far in Season 2, Tyson has sat with former President Bill Clinton, Susan Sarandon and David Byrne, among others. We asked him to give us the Star spiel.
I have time to watch one more show. Why should it be yours?
Tyson: Many people have come to realize that, after watching hours of mindless television, it's time to learn something yet still be entertained. StarTalk is that show.
Who should watch?
Tyson: People who know they like science, people who don't know they like science, people who know they don't like science.
What happens if we don't watch your show?
Tyson: You can download the podcast and listen to it on the treadmill of your fitness center, or during your morning or evening commute. Six Seasons of archived shows await you there: http://www.startalkradio.net/shows-archive/
What's the best thing anyone has said about StarTalk?
Tyson: That it changed their life. Discovering for the first time the majesty of the universe and regretting having never explored it before.
What's the worst thing?
Tyson: Some people want just pure scientific facts, minus the pop-culture and entertainment that we bring to the show. I simply direct them to my books and videos, which serve that geekiest of needs.
What's an alternate title?
Tyson: Bringing the Universe Down to Earth.
Who's your dream guest from history?
Tyson: Edgar Allen Poe – who wrote, among other notable works, the prose poem "Eureka," itself containing his own reflections and interpretations on the origins of the universe. This tells me he had a soft geek underbelly that few people knew of.
Give us an equation for StarTalk.
Tyson: I prefer to think of the kitchen: Jon Stewart's Daily Show spiced by Cosmos: A Spacetime Odyssey, shaken, not stirred.
Come up with a premise for the spin-off.
Tyson: Other science educators create similar shows but from their own scientific angles. BioTalk? ChemTalk? GeoTalk?
What credit of yours would you prefer we forget?
Tyson: Credits are generally good things. So why should I want people to forget them. More generally, I care what I am to people in the moment. If my arguments and comments are properly founded and suitably insightful, then my credits and pedigree are irrelevant to you.
What other series would you most like to be a part of?
Tyson: None. I have no TV ambitions. In spite of what it may look like to you.
Let's scare the network. Tell us an idea that didn't make it on to the screen.
Tyson: We're putting everything we want on the screen. Bleeping "bad" language when necessary, but otherwise saying what needs to be said.
Finish this sentence: "If you like _______, you'll love our show."
Tyson: Thinking at all.
Pick another show, any show, to start a fake feud with.
Tyson: The Nightly Show with Larry Wilmore
What other show would you like to do a cross-over episode with—and how would that go?
Tyson: Would like a random episode of StarTalk to show up in the background TV set of any other TV series or movie. That would be fun.
How will your show change the face of TV as we know it?
Tyson: It's the first-ever science-based talk show. So it already has.
StarTalk, Sundays, 11/10c, National Geographic Channel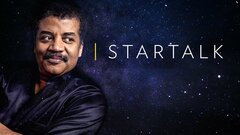 Powered by