William Shatner Previews Croatoan and Audrey's Fraught Reunion on 'Haven' (VIDEO)
After half a season of terrorizing Haven, Croatoan (William Shatner) has finally taken physical form—and succeeded in capturing Audrey (Emily Rose). Thursday's penultimate episode of the Syfy series will feature his long awaited face-to-face with his long lost daughter.
But as the exclusive clip below reveals, daddy dearest's (played by William Shatner) immediate plans for his daughter—who he'd known back when she was still Mara—don't involve killing her as much as making sure she's well fed?
That's probably because family is still on his mind. "Charlotte put Mara in the barn, basically separating [Croatoan] from his daughter," explains executive producer Gabrielle Stanton. "So he's spent the last few years trying to get back to her. This [has been] his main goal for a very long time."
[jwplatform LfIN6fMe]
Shatner says Croatoan feels "great joy and dread" about finally meeting his daughter, whom he'd last seen hundreds of years ago before he was banished into the void, but he's also "puzzled" that that Audrey is nothing like Mara, who had once liked him.
Audrey isn't the only one who's different; Croatoan has undergone some changes himself. "The void probably didn't do him any good," Shatner says of the other dimension's impact on his character. "It is akin to being in solitary confinement."
But despite all the dead bodies Croatoan has piled up, Shatner says there is still some good to be found in his "murderous" character: "There are remnants of the man, the entity he once was [before he was banished]."
Haven airs Thursdays at 10/9c on Syfy.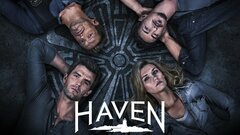 Haven
where to stream
Powered by