What's Worth Watching: 'Homeland' on Showtime for Sunday, December 20
Homeland, "A False Glimmer" (Sunday, Dec. 20, 9/8c, Showtime)
Even 24's Jack Bauer would have to give Carrie Mathison (Claire Danes) points for fearless moxie. When last we saw her, the unstable but driven former CIA analyst was giving chase to a jihadist in the Berlin subway; her intuition had guided her to the probable site for a deadly Sarin gas attack. (Everyone else fell for the lies of ruthless mole Allison, who pointed the authorities toward the airport.) Despite the season finale's alarming episode title, which we hope doesn't refer to the impossibility of a hopeful outcome, we're rooting for Carrie to save the day and the city—although Homeland is just unpredictable enough to zig with malicious intent where most shows of its type would zag to let us off the suspenseful hook.
At the very least, we hope Saul (Mandy Patinkin) catches up with the duplicitous Allison (a very impressive Miranda Otto) and makes her pay for her treachery. Although anyone who can shoot herself in the shoulder to cover her murderous tracks is also worthy of Jack Bauer's respect. Same goes for poor Quinn (Rupert Friend), who has been gut-shot this season and subjected to Sarin poisoning among other indignities and is still kicking, though right now rather feebly.
This very timely season has been quite a dramatic comeback for Homeland, leaving us cautiously optimistic about a just-announced Season 6. Showtime also renewed The Affair for a third season, which signs off (10/9c) with the promise to tell us what really happened to Scotty (Colin Donnell, now a Chicago Med regular), while Noah's (Dominic West) trial takes another dramatic turn.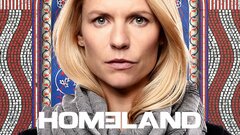 Powered by