Andy Cohen's 'Then and Now' Compares History With Billy Eichner, Kelly Ripa and Even Some Real Housewives
Andy Cohen is a pop-culture fanatic with a knack for bringing together strange bedfellows. So it's no wonder that the host of Bravo's late-night talk show, Watch What Happens Live, has found another arena for his signature powers. In the new three-part series Then and Now With Andy Cohen, he'll revisit events that took place during a trio of years in recent history—1989, 1994 and 2000—by swapping stories with such guests as Kelly Ripa, Connie Chung, Billy Eichner and former White House social secretary Jeremy Bernard. Here, he previews the trip down memory lane.
You started your career as a producer at CBS News. Does this feel like going back to your roots?
This is the most journalistic thing I've done in a while. Bravo really encouraged us to go smart with the topics we're covering—it's everything from Elián González and the Berlin Wall falling to Kelly Ripa talking about the first time she got Botox. It's definitely deep and shallow, which is one of my trademarks.
What made you zero in on these years?
We wanted to focus on big things happening during years that weren't too close. The 1994 episode is juicy. We talk to Bob Tur, who was the first helicopter pilot following the O.J. Simpson chase [and has] now switched genders. It was interesting hearing from her.
Have we come a long way in recent decades?
Obviously, the world is so different now in terms of technology, music, activism. Look at where gays were in 1989, when I was coming out of the closet, and now it's a new frontier. But some things haven't changed. If you think about what was going on back then with race relations, it's really eerily similar to today.
Even though this project is newsy, it's a relief to know there are still Real Housewives in the mix!
Oh, yeah. We have Bethenny Frankel, Heather Dubrow, Lea Black, Kyle Richards. They're hilarious in it—which is what we wanted!
Then and Now, Series premiere, Sunday, Dec. 13, 10/9c, Bravo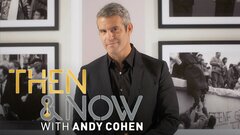 Powered by