'The Good Place' Preview: Michael Has an Existential Crisis (VIDEO)
Last week on The Good Place, Eleanor (Kristen Bell) and company finally managed to break free of the seemingly endless cycle of mind-wiping that Michael (Ted Danson) had them in. They've teamed up with the architect of their eternal torture to try to thwart one of his own minions (Tiya Sircar)—and to try to become better people.
At the beginning of this exclusive clip from Thursday's episode, everything is going characteristically perfect for Tahani (Jameela Jamil) as she preps what looks like…Mar-a-Lago for a glitzy party. Of course, Eleanor has to throw a wrench in the gilded works when she and Chidi (William Jackson Harper) drag in a traumatized Michael. Seems he's OD'd on philosophy in his lessons with Chidi and is in the throes of some sort of existential crisis.
See Also
The breakout comedy promises lots of sunniness within the darkness of the new storyline
"We're all just corpses who haven't yet begun to decay," he mumbles. Which raises the question: Isn't Michael not technically a corpse though? Isn't he, like, an immortal incorporeal being? Can immortal incorporeal beings have existential crises? That's The Good Place for you: always provoking the tough existential questions.
Check out the clip below:
The Good Place, Thursdays, 8:30/7:30c, NBC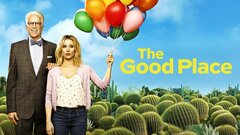 Powered by