'Gravity Falls' Weirdmageddon, Part 2: More Mabel Moments and an Unexpected 'Daily Show' Reunion
Spoiler alert! Stop reading unless you've watched Monday's episode of Gravity Falls. Or else you could be sucked into one of Bill Cipher's weird bubbles…
With the Pines twins finally reunited and the Mystery Crew finally complete, Gravity Falls might just have some hope of surviving Bill's Weirdmageddon—especially as it seems like the entire town has banded together to face Bill.
Now that viewers have gotten a glimpse of the Pine twins in their younger days and had the pleasure of experiencing Jon Stewart take on the role of a cat judge, we talked to Kristen Schaal about some of the big moments from tonight's Mabel-centric episode.
We got a glimpse of the Pine Twins' childhoods and we saw just how scared and upset the future makes Mabel. How was that for you to tackle as a voice actor?
It was a little bit of a challenge. There's a vulnerability to making yourself go to such a sad place. But it was nice because, well, Alex and I kept joking 'em up. So I guess I nailed it!
What was your favorite thing to learn about "Mabel land"?
I love the Mabel jury. I did all of the Mabel jury voices. [Laughs]
Were all those lines in the script? Or were some improvised?
I think we riffed on those a little bit.
Do you have a favorite Mabel line?
I love everything she says. It's so fun. She's such a bubbly, bright spirit it sort of brings it out of me. I'm always in a good mood as soon as I start saying her lines.
RELATED: Kristen Schaal on Mabel's Growing Pains
Mabel has kind of known about the magic and mystery of the town. How will this inform her response to the apocalypse now that she's out of the bubble?
I think she's just rolling up her sleeves, ready to fix it. She and Dipper are always proactive about getting things fixed. It doesn't phase her. She's just trying to get to Grunkle Stan.
Dipper has always been the one dealing with Bill Cipher. How does Mabel feel about him? Does she particularly care about him?
She's pretty aware that he's the bad guy and she doesn't like him.
Jon Stewart voiced the cat in the trial scene. Did you know about that going into the episode?
Yeah. He's a big fan of Gravity Falls. Every time I'd go in for the Daily Show, he'd asked me about Gravity Falls. His kids are huge fans and he's really into it. I told Alex about it, and he got really excited, saying, "He could do a voice." And I didn't know when he would do it! But he was able to fit it in. And I was so excited to have him.
The series finale of Gravity Falls will air in 2016.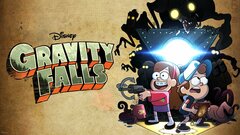 Powered by