'Blindspot's Showrunner Breaks Down the Game-Changing Midseason Finale
Spoiler alert! Don't read further if you haven't watched the latest episode of Blindspot.
Talk about toying with our emotions! On Monday night's midseason finale of Blindspot, Jane (Jaimie Alexander) and Kurt (Sullivan Stapleton) finally broke the sexual tension and went in for a long-awaited kiss. Cloud nine! But then just moments later, Jane was kidnapped and tortured by Carter. Luckily, Oscar, the hot guy with the tree tattoo was close by and able to save our heroine. But then he pulled out a phone and showed Jane a video of herself, claiming that she was responsible for her tattooed body and memory loss, and that everything was going according to plan.
Say what?! We called up executive producer Martin Gero to break it all down for us, and to give us some hints about what's to come when the show returns Feb. 29.
How long have you known the midseason finale would end like this?
This is how I pitched it, before there was even a pilot written.
I feel like a lot of shows would have ended with Jane being kidnapped, or maybe with Carter torturing her. Why did you decide to go a few steps further and give us some answers?
My pet peeve with shows like this, as a viewer, is that you just don't get answers enough. For all intents and purposes, network television has now become essentially two seasons of a regular cable show. We do these fall finales and then take a little time off and then come back, so it should feel as big as a season finale. So if this was the end of our first season, it would feel right. We have confidence, we know how much story there is to come. So playing this card, it seems like it's early, but for us, it changes the show in a really exciting way that we've been dying to do.
What is that way?
Well, what's great about Jane is she's a fascinating character, she's got this incredible vulnerability and strength. But on a show like this, she doesn't really have any secrets. Like, we know everything that Jane knows. So for some of the interpersonal tensions, it's a little difficult to create outside of just the heat that she feels with Weller that she probably shouldn't act on. So now Jane's got things to play and has secrets suddenly from the team. It creates an amazing dynamic that we were obviously nervous about because it changes the show somewhat. But [it] has really just given us such a richer ground to write these scripts.
How is Jane's revelation going to affect the format of the show? Is she still gonna go help out with a case of the week after finding this out?
Oh, absolutely. It doesn't reinvent the wheel. It just augments it.
Can Jane trust the video of herself?
That's a great question.
Jane and Kurt kissed! How long have Jaimie and Sullivan known about that? 'Cause I feel like they've been feigning ignorance on that one.
Honestly, I think they really do both only read the script right before we start. So it's real possible that they didn't know. But others have known. They're the two actors that ask the least, to be honest. They don't want to know what's happening next. I think they like to experience the show when they read it because their only chance to watch the show is when they read an episode for the first time. So no, I don't think they've been lying.
Have fans been begging you to make that happen?
Oh, yes. But it's not like we were bowing to fan demand. This is something we really wanted as well. For me, it was so heartbreaking because the moment that she maybe feels the safest at the end of this episode is when the ground falls out from under her. She's told Kurt how she feels. Patterson basically tells her she doesn't know what she could do without her. She's part of the team in a real organic and beautiful way. Everyone's accepted her, and now [it's] only to find out she's an interloper. It makes the twist emotionally more significant.
Given Jane's tree tattoo sex dreams, are we gearing up for a love triangle with Kurt and Oscar?
I think that's probably in the cards. She used to be engaged to Oscar, the tree guy. So it's going to definitely complicate things.
Are we done with Daylight? Or is there more mystery to be had there?
We're not done with Daylight. Daylight still hasn't been exposed publicly, and it's still a motivation that the people that did this to Jane have front and center in their mind. But I think, day to day, the show isn't going to be as obsessed with it, now that we kind of know everything about it.
Will Orion be the big mystery for the second half of the season in the way Daylight was for the first?
Yeah.
If Carter's out of the picture, who's our "big bad" going to be?
You'll just have to see.
You were picked up for a second season already—how has that affected your planning and writing the rest of this season? Is there less pressure to wrap it all up?
I have never felt that pressure. I've said since the beginning that the way we have designed these seasons is, each season should feel like a book in a series that you really like. So this season has an organic beginning, middle and end, and that leads into the next season. So our plan has never changed. We've always assumed that we were going to do at least 22 episodes this year, perhaps foolishly so, but it paid off. Our plan for the second season has not changed since we got the second season pickup. It's just allowed us to talk about it in more concrete ways a little earlier, which is never a bad thing.
What can we expect when the show returns in February?
I think the show is really finding its footing. For instance, episode 9 was a bit of a risk for us tonally, and I think it paid off really well. We've found an amazing cast that I think we're giving more and more to do every episode. It's slowly turning into the ensemble drama we all kind of hoped it could be. Regardless of how much you plan in advance, it takes a second to learn how to make a show of this size. The lessons that we learned in these first 10 episodes have really strengthened the upcoming 13, both from a production standpoint of how much we can do—which is now a lot more—and then from a storytelling standpoint as well, just really understanding what works and what connects to an audience and what doesn't. That's what's been so incredibly useful about not only the ratings, obviously, but the feedback from various forms of social media. You really do get, like, a live research group about your own show. So we'll lean into that.
Blindspot returns Monday, February 29, 10/9c, NBC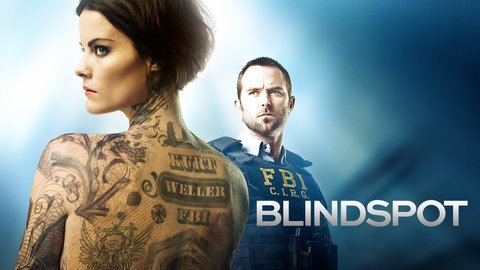 Powered by