'Crazy Ex-Girlfriend's Donna Lynne Champlin Tunes Up for Her Sexy Solo (VIDEO)
https://player.waywire.com/?id=JL8J6033DDL8SFGK
It may not be a "getting ready" song, but Crazy Ex-Girlfriend's Paula will be taking center stage for her own sexy musical number in Monday's episode of The CW show.
The hour sees Paula (played by Donna Lynne Champlin) get romantically pursued by the firm's potential new client Calvin (guest star Cedric Yarbrough)—much to Paula and Donna Lynne's pleasure. "I fan-geeked out because I was a huge fan of Reno 911."
Meanwhile, Paula's bestie, Rebecca (Rachel Bloom) is dealing with the news that Josh (Vincent Rodriguez III) has moved in with his girlfriend. Luckily for her, she has the episode's other guest star, Dr. Phil, to help her deal with her feelings while Paula gets wined and dined.
Ahead of tonight's episode, we caught up with Champlin to talk about Paula's friendship with Rebecca and Paula's marriage woes (and why the actress geeked out over True Blood in real life). Here's everything she revealed below. Also, check out an exclusive clip of Champlin singing Paula's big number, "His Status Is… Preferred"!
Paula is getting a turn to get her sexy on.
"I really love the fact that they allowed Paula to be sexualized," says Champlin of her character's big song in the episode, which sees her on a date with a man who isn't her husband. "Just because she's not young and not a Size 2 doesn't mean that she doesn't have her own sexual feelings. I really dug that there was a whole song sort of celebrating that she's sexually awake. She's not stuck in this stereotype of the asexual, goofball best friend."
Tonight's episode is a big turning point for Paula and Rebecca's friendship.
"Rebecca has the epiphany and for the first time saves Paula," shares Champlin, who loves that her character isn't just the best friend who warns Rebecca not to do things. "It really balances out their friendship. It's not just one-sided with Paula playing mommy or the older, wiser sister. It's that Paula needs Rebecca as much as Rebecca needs her." In fact, Champlin doesn't think that Paula really had a best friend before Rebecca moved to town. "She has a great working relationship with Mrs. Hernandez. Obviously they get along and they're friends, but it's clear that Mrs. Hernandez has her own thing going on and is, in comparison, a much healthier person [and] Paula's much lonelier. [So] when Rebecca comes on the scene, they bond very, very quickly in a much more intimate and extreme way than Paula could with Mrs. Hernandez."
The problems in Paula's marriage will be addressed.
As evidenced in last week's Thanksgiving-themed episode, Paula's marriage with her husband isn't exactly in the best shape. "[They] don't have a good relationship at all," reveals Champlin. "It's not a bad relationship; it's just sort of a dead relationship—or a relationship that's in a coma." But Champlin says that the show will focus on Paula's marriage, with Episode 11 delving into "the dynamic of a marriage in trouble."
Paula may be Team Josh, but Donna Lynne is Team Greg.
"Paula isn't really interested in reality, she's interested in the dream," reveals Champlin about her character's desire to see Rebecca end up with Josh. "She's fixated on the purest, most innocent form of romantic love, which is Josh. It's more epic than anything that could happen with Greg, because Greg is too much of a grown-up." Champlin also points out that Paula doesn't know what viewers know about Greg because she's only met him a few times. "If you look at it from Paula's perspective, she's only seen him twice, and she has no idea really what a good guy Greg is. She truly sees him as an obstacle—an attractive, sexy obstacle—to the goal." But at the end of the day, Champlin says the real love story is Paula and Rebecca's friendship. "That's the true marriage that [the writers] are eager to explore and constantly winding toward in the storytelling."
One thing Paula and Donna have in common: they're both big pop culture buffs.
"It surprised the writers because a lot of the stuff was written even before I joined the cast," explains Champlin. "I totally fan-geeked out on the first day of shooting because our prop guy actually did props for True Blood." Champlin especially loves the HBO show, as she's a fan of "anything with vampires and ghosts"—not unlike her character. That meant she was especially excited when Michael McMillian, who played a pastor on True Blood, guest-starred on the show. "I'm just a freakazoid for that kind of occult-ish stuff. Everyone really enjoys watching me fan-geek out when any sort of True Blood reference happens, and it happens a lot on our show."
Crazy Ex-Girlfriend airs on Mondays at 8/7c on The CW.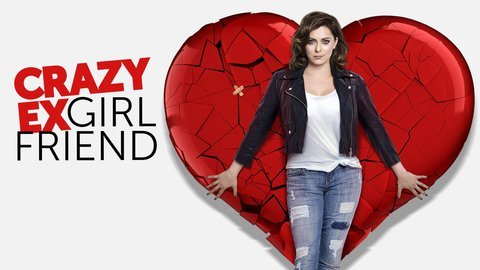 Powered by