'Heroes Reborn's eBook Reveals the Truth About Claire Bennet's Fate
And no, she isn't hiding out in Nashville.
Just recently, Heroes Reborn revealed that superpowered cheerleader Claire Bennet (played in the original series by Hayden Panettiere) suffered a fatal cardiac arrest during childbirth on the same day as the Odessa bombings that kicked off the reboot. But that apparently isn't the whole story.
Thanks to the just-released six-installment e-book series, fans can find out even more about the supposedly indestructible teen's fate in Save the Cheerleader, Destroy the World, the fifth novella in the collection (available for download on Amazon.com today, along with the concluding chapter, A Long Way From Home.)
"For those who've been watching Heroes Reborn and wondering what happened to Claire Bennet, they need to read [the book]," says author Keith DeCandido, who has also penned novels based on Star Trek, Supernatural, Buffy the Vampire Slayer and Sleepy Hollow. "All will be revealed about the journey our favorite cheerleader went on between going public with her powers by jumping off a Ferris wheel [in the series finale] to dying in childbirth in an Odessa hospital on June 13."
We can only imagine how crazy things got for our girl in the five interceding years, especially given her twisted relationship with daddy Noah (Jack Coleman) and the fact that things went south fast for her fellow EVOs after she came out to world as one of them.
To find out what really went down, hit Amazon.com for the download today!
Heroes Reborn, Thursdays, 9/8c, NBC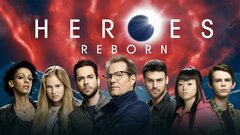 Powered by