Charlie Sheen Reveals He Is HIV-Positive on 'Today' Show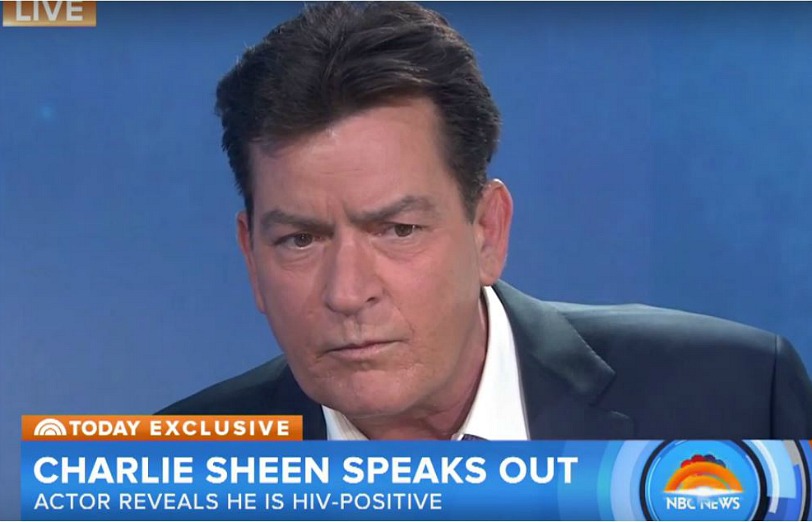 "I am here to admit I am HIV-positive."
At 7:40/6:40c this morning , Charlie Sheen confirmed to Today anchor Matt Lauer the widespread rumors about his health.
"I have to put a stop to this barrage of attacks," he said referring to media reports that he had purposely been spreading the virus to sexual partners. "I release myself from that prison today," he told Lauer, referring to a web of shakedowns and secrets he'd been in for several years.
Four years ago after a bout with crushing headaches and night sweats lead him to believe he had a brain tumor, the 50-year-old actor —who had claimed to have bedded 5,000 women —was given the diagnosis. He claims to not know how he contracted HIV and said he never "used needles."
Sheen's doctor, Robert Huizenga, confirmed on the show that the actor does not have AIDS; Sheen said adamantly that he had not missed his daily pill regimen of the so-called "triple cocktail" of prescription drugs since his diagnosis.
Sheen admitted that his depression after he learned his new status had led to "a descent into profound drug abuse and fathomless drinking," which led to "a lot of bad decisions." Sheen revealed that he kept bringing what Lauer called "unsavory" people to his house, including hookers, at least one of whom who took pictures of his anti-viral medicine in his bathroom and extorted him for her silence.
She was just one of a number of so-called friends—"my trust turned to their treason"–whom he paid "upwards of $10 million" not to reveal his status. (Due to the payoffs, his financial condition is "not great," he admitted.)
The actor says it's "impossible" that he had spread the disease, and said uses condoms–although he said he has had unprotected sex with several women, whom he told first and who are now under the care of his doctor. He also claimed he told every sexual partner that he was HIV-positive and immediately shared the news with his ex-wives, Denise Richards and Brooke Mueller, and recently told his adult daughter, Cassandra. "It was hard but she recovered."
Sheen said he has stopped taking illegal drugs but is still drinking. Huizenga said that the actor "is healthy," that his viral load is undetectable, but he's "petrified" that if his patient is impaired by alcohol he will act rashly. Sheen told Lauer that revealing his status publicly could lead to his quitting alcohol, but he made no promises.
"I feel more relief that I thought possible," Sheen told Lauer near the end of his lengthy three-part interview. He said he hopes "that the media will be a lot more forgiving and more supportive than some of the garbage I've been reading for the last couple of days." The former Two and a Half Men star said he has a TV show and several movies in the hopper and that producers had assured him that he's "still the best guy for the job."
The actor mentioned several times that he hoped the interview would help other people in his situation, and after "pissing away a lot of opportunities," he's "approaching a time of amore of a philanthropic approach to his life."