'Lizzie McGuire' Creator Gets New Disney Channel Show
Disney Channel wants a new Lizzie McGuire.
At least, that's the look of things now that the cable network has greenlit a new series pilot from Terri Minsky, the creator of McGuire—a huge Disney hit starring Hilary Duff that ran from 2001 to 2004.
The new yet-to-be-titled series follows a 13-year-old girl named Andi Marcus who's eager to have some more grown-up fun now that she's a teenager. Unfortunately, she has an ultra strict mom who's seen it all before, thanks to Andi's rebellious older sister, Bex. But when Bex, now in her late 20s, returns home and declares she's ready to clean up her act, Andi's life is about to change—big time.
RELATED: 16 Family-Friendly Shows You Don't Want to Miss
The show stars newcomer Peyton Elizabeth Lee, who has appeared on episodes of Shameless and Scandal. Minsky, who also created Less Than Perfect and recently developed MTV's Finding Carter, will executive produce the show along with Michelle Manning, who produced the Disney Channel original movie Teen Beach 2.
Production on the show will begin early next year.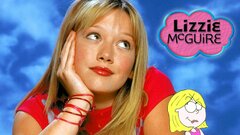 Powered by