Fox Announces Winter Premieres: Tuesday Comedies, 'American Idol' to Thursdays, 'Empire' Returns in March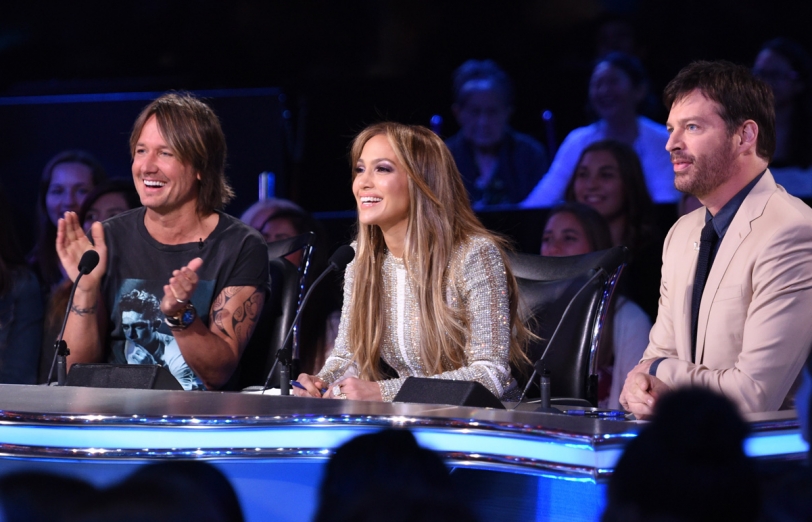 J-Lo will take on Thursday nights this winter.
Fox has announced its plans for January through March, which includes moving the final season of American Idol to Thursday nights and a new four-comedy block on Tuesdays.
In what will be a Winter premiere week of diva proportions, the launch of American Idol's 15th season takes place on Wednesday, Jan. 6 at 8/7c (two hours), followed by another two hours on Thursday, Jan. 7. That means the singing competition, featuring Jennifer Lopez as a judge, will air the same night as Lopez's new NBC police drama Shades of Blue, which premieres Jan. 7 at 10/9c.
Fox's Tuesday comedy lineup starts Jan. 5 with the season premiere of New Girl (8/7c), while John Stamos' Grandfathered slides down to 8:30/7:30c. At 9/8c, Brooklyn Nine-Nine moves over from Sunday to anchor the hour, while Rob Lowe's The Grinder gets the 9:30/8:30c hammock slot.
Fox's winter slate actually kicks off on Sunday, Jan. 3 with the premiere of new live-action comedy Cooper Barrett's Guide to Surviving Life (8:30/7:30c, filling in for Brooklyn Nine-Nine) and new animated comedy Bordertown (9:30/8:30c, as The Last Man on Earth goes on break).
Fox's Sunday slate will be pre-empted at the end of January, however: On Jan. 24, the premiere of The X-Files airs at 10ET/7PT after the conclusion of the NFC Championship Game. The following week, on Jan. 31, Grease Live! airs for three hours, starting at 7/6c.
The network's Monday winter lineup starts on Jan. 4 with the special Superhuman (8/7c). The regular Monday schedule then begins Jan. 25 at 8/7c with the regular home for The X-Files and the premiere of comic book drama Lucifer (9/8c). Gotham returns on Feb. 29 at 8/7c after The X-Files ends.
As for Wednesdays, on Jan. 13, American Idol will shrink to one hour weekly at 8/7c, followed by the premiere of Second Chance (the drama formerly known as both Lookinglass and The Frankenstein Code).
Rosewood is back on Wednesdays at 8/7c starting March 2, the same week Idol shrinks down to just once-a-week airings (on Thursday nights). Empire returns to the night on March 30 at 9/8c, after Second Chance concludes its season.
On Fridays, MasterChef Junior returns on Jan. 8 with a two-hour episode; the following week, on Jan. 15, MasterChef Junior shrinks to one hour at 8/7c, followed by Hell's Kitchen at 9/8c. When MasterChef concludes, Sleepy Hollow returns on Feb. 5 at 8/7c.
Return dates for Bones and The Last Man on Earth will be announced later.
Details on some of the new programs: Superhuman, hosted by Kal Penn, is a two-hour special that features 12 contestants showcasing their extraordinary skills. Second Chance stars Rob Kazinsky as a 75-year-old ex-sheriff who is brought back to life as 35-year-old with near-superhuman abilities. Lucifer, based on characters from DC Entertainment, stars Tom Ellis as Lucifer Morningstar, who has abandoned hell for LA.
Sunday, Jan. 3
8/7c THE SIMPSONS (Winter return)
8:30/7:30c COOPER BARRETT'S GUIDE TO SURVIVING LIFE (New comedy)
9/8c FAMILY GUY (Winter return)
9:30/8:30c BORDERTOWN (New animated comedy)
Monday, Jan. 4
8/7c SUPERHUMAN (Two-hour special)
Tuesdays, beginning Jan. 5
8/7c NEW GIRL (Season premiere)
8:30/7:30c GRANDFATHERED (Time period premiere)
9/8c BROOKLYN NINE-NINE (Time period premiere)
9:30/8:30c THE GRINDER (Time period premiere)
Wednesday, Jan. 6
8/7c AMERICAN IDOL (Season premiere, part one)
Thursdays, beginning Jan. 7
8/7c AMERICAN IDOL (Season premiere, part two)
Friday, Jan. 8
8/7c MASTERCHEF JUNIOR (Winter return/Special two-hour episode)
Sundays, beginning Jan. 10
7:30/6:30c BOB'S BURGERS (Winter return)
8/7c THE SIMPSONS
8:30/7:30c COOPER BARRETT'S GUIDE TO SURVIVING LIFE
9/8c FAMILY GUY
9:30/8:30c BORDERTOWN
Wednesdays, beginning Jan. 13
8/7c AMERICAN IDOL (Time period premiere)
9/8c SECOND CHANCE (New drama premiere)
Fridays, beginning Jan. 15
8/7c MASTERCHEF JUNIOR
9/8c HELL'S KITCHEN (Season premiere)
Sunday, Jan. 24
10/7p THE X-FILES (Season premiere, part one)
Mondays, beginning Jan. 25
8/7c THE X-FILES (Season premiere, part two)
9/8c LUCIFER (New drama premiere)
Sunday, Jan. 31
7/6c GREASE: LIVE
Fridays, beginning Feb. 5
8/7c SLEEPY HOLLOW (Time period / spring premiere)
9/8c HELL'S KITCHEN
Mondays, beginning Feb. 29
8/7c GOTHAM (Spring premiere)
9/8c LUCIFER
Wednesdays, beginning March 2
8/7c ROSEWOOD (Spring premiere)
9/8c SECOND CHANCE
Wednesdays, beginning March 30
8/7c ROSEWOOD
9/8c EMPIRE (Spring premiere)