NYCC 2017: The Magic in ABC's 'Deception' Has High Stakes
ABC's midseason series Deception stopped by New York Comic Con on Sunday to bring magic to the con-goers. The series follows superstar magician Cameron Black (Jack Cutmore-Scott) who lends a hand to the FBI as a "consulting illusionist," all while also trying to break his twin brother out of jail.
The panel featured executive producers Chris Fedak, Martin Gero, and stars Ilfenesh Hadera and Cutmore-Scott.
Cutmore-Scott, who had to learn sleight of hand and other magic tricks for the role, joked, "I've become really annoying at drinks and parties and stuff."
Packed with FBI action scenes and alluring magic, the series has a little bit of everything.
Gero noted, "I think Fedak said it best when we pitched it, it's basically is Magician Impossible. We're able to do these action sequences in a whole new and exciting way because there's a bunch of new tricks in the fold." Fedak added: "A lot of the time we're actually building the magic tricks ourselves, which is really exciting."
Gero (who is also an EP for NBC's Blindspot) explained that for him, the element of magic is personal. "I used to be a birthday magician," he explains. "I've been obsessed with magic since forever. I could probably verbatim talk through every David Copperfield special."
But it isn't just about the magic—there's some serious stakes for these characters. "In our show, if the trick doesn't work people die," Fedak says.
Deception, Series Premiere, early 2018, ABC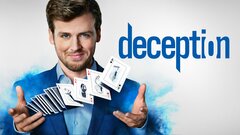 Powered by