'The Librarians' Dredges Up Jake Stone's Mysterious Past at an Oil Rig in Oklahoma (VIDEO)
Home is where the heart is, but that's not the case for Jacob Stone as The Librarians learn on this Sunday's episode. The TNT drama will be taking a trip to Oklahoma to investigate a cave-in at an oil rig site that released a shape-shifting god called Hokolonote, only to dig up some demons from Jake's past—or, namely, one specific demon: his father.
"Jake doesn't want to go [to Oklahoma]," says Christian Kane, who plays the cowboy Librarian with a poet's soul. "And he definitely doesn't want anybody with him." Unfortunately for Jake, Ezekiel (John Kim) and Cassandra (Lindy Booth) will be making the trip home with him. But Kane says that meeting Jake's father (played by none other than veteran film actor, Jeff Fahey) will be a surprise for the other Librarians. In fact, Kane says the emotionally tough hour will have an effect on how Jake approaches the rest of the team. "Family ain't easy," says Kane. "You don't want people to see where you're from because it gives them a piece of insight about you. So he has to prepare for that with [Ezekiel and Cassandra]."
RELATED: 6 Things to Know About This Season of The Librarians
The patriarch is a huge part of who Jake is, and their relationship with each other will answer a lot of questions about how the rough-and-tumble Librarian grew up. And the focus on Oklahoma is no coincidence. "John Rogers wrote this role for me. We had worked together for five years on Leverage. So, when he created this character, he had me in mind," Kane revealed. "Hence, [Jake's] from Oklahoma, his father's in the oil business, and he knows a lot about art history [especially] American art 'cause I'm Cherokee Indian."
Kane teases that this episode will be "the Wikipedia of Jake Stone," and it will reveal a lot about the character's past life, something he's forced to face upon returning home. "Jake's very much in the closet about his IQ and how smart he is," says Kane. "[But] there's no reason to be ashamed of how smart you are. He confronts that with his dad." The confrontation will also affect how he approaches his role as a Librarian. "You see his love for art coming out [a lot more]," says Kane. "Whereas last season it wouldn't have been such a great thing, this year he just doesn't care. He loves it."
And for those wondering if Jake's Librarian adventures have gotten in the way of publishing papers online, Kane says that Jake "absolutely 100%" hasn't given up that aspect of his former life. "You find out a lot about that this year."
Watch the exclusive clip below of this week's episode to catch a glimpse of Jake's dad.
[jwplatform KCDS2Bon]
The Librarians airs Sundays at 8/7c on TNT.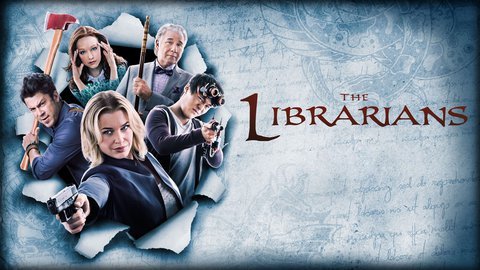 Powered by