Jimmy Fallon Addresses Latest Hand Injury, Introduces Himself as 'Trippy Fallon'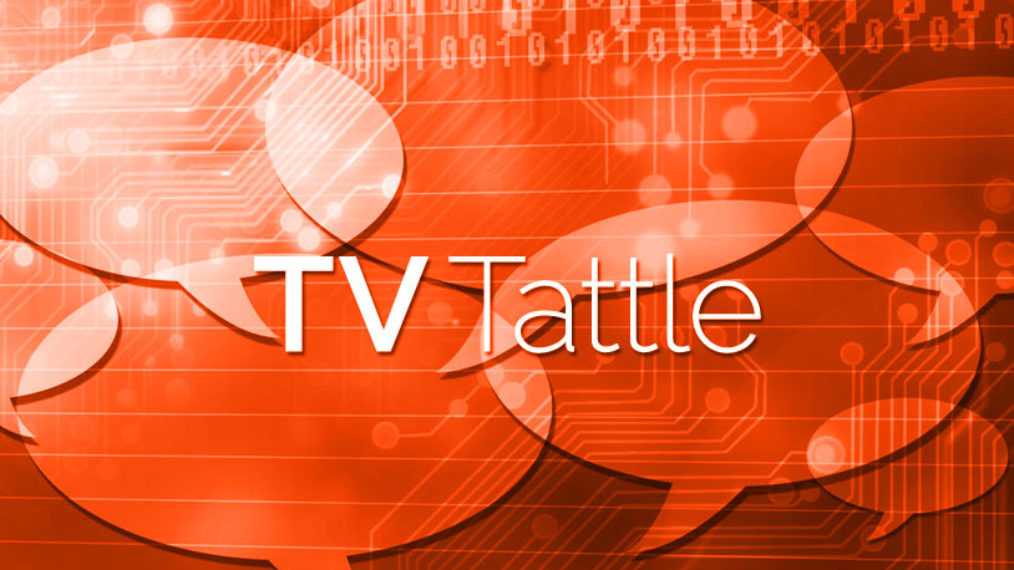 "Even when I get into Harvard, I embarrass my parents," Fallon said of tripping and smashing his hand into a shattered bottle of Jägermeister while being honored as the "Emperor of Comedy" by the Harvard Lampoon. As Fallon explained, he was not drinking the Jägermeister — he was going to present the bottle to a band performing for him when he tripped over a girl who knelt down before him.
GLAAD's annual "Where We Are on TV" report found that the number of LGBT characters are up on both broadcast and cable. But LGBT characters were primarily white on broadcast (71%) and cable (73%).
"I definitely want viewers to have an emotional experience either way," says Scott M. Gimple. "There are twists and turns, and bad things happen. Ultimately, it's all part of a bigger story. I hope that the audience will just wait to see the greater story and see how it all plays out. They're kind of stopping in the middle of the movie, which they have to because there's a week between the reels. But we're still in the middle of the movie." PLUS: A Walking Dead producer is surprised to be getting so much hate mail.
The Pursuit, about a group of 20-something Manhattanites, has been scrapped after Yahoo lost money on Community and two other scripted comedies.
Amy Poehler and Tina Fey elevated the hosting gig for three years, and made you realize that their predecessor Gervais only cracked "crack only-sort-of-funny jokes." PLUS: A Gervais painting sells for a lot of money.
"With Asian people," he says, "there can be one, but there can't be two. Black people, there can be two, but there can't be three because then it becomes a black show. Gay people, there can be two; women, there can be two; but Asian people, Indian people, there can be one but there can't be two."
The Starz series has posted a "slightly NSFW" preview online.
Tatum will battle his wife, Jenna Dewan Tatum, in Season 2, with Beyonce providing backup vocals.
Donald Trump and Bernie Sanders have essentially become "cast members, along with the rest of the presidential candidates, in a wonky form of reality TV," says Mark Z. Barabak.
Costume designer Salvador Perez today begins selling the coats he made for Mindy on Gilt.com.
From the pitching to the table read to the storyboard…
Brown says she was surprised that the controversial remarks remained in the final cut.
As executive producer Greg Berlanti explains, "In the pilot we were determined to never cut away from her getting thrashed or beat up where we wouldn't have cut away with a male character. So there are times where Flash or Arrow would have gotten their a– kicked, and we would have watched that, and everyone would have been fine with it. And we were in testing and people were watching Supergirl get beat up in the middle of the episode and people were getting uncomfortable about it. But then, you can't have the same kind of joy and exhilaration at the end if you don't have that point in the middle. … What we try and do, what would our code be if it were a dude, and let it be the same, and let the audience figure out for themselves what they think the difference is." PLUS: What was the hardest thing about making Supergirl?, how Supergirl's iconic costume was tweaked, and the costume's muted tones match Henry Cavill's cinematic Superman.
The actor should be okay, Variety reports, but the ABC Family comedy doesn't have a date set for resuming production.
Damon Lindelof's HBO series, says Emily Nussbaum, "is often as much about images (a girl locked in a refrigerator, a dog that won't stop barking) and feelings (fury, suicidal alienation) as about events; it dives into melancholy and the underwater intensity of the grieving mind without any of the usual relief of caperlike breakthroughs."
Penn will host the two-hour competition special, where contestants will try to prove they are "superhuman" enough.
Will Wiig win an Oscar for Crying in a Sweater?
The Cycle 22's Bello Sanchez was apparently exhausted after working a number of fashion shows.
Premiering in December, #BlackLove's stars include Monet Bell from Married at First Sight.
The Twin Peaks alum will replace Kelly LeBrock, who was originally cast in a role as the earthly character Queen.
Witherspoon and Dern are reteaming for another screen adaptation of Wild author Cheryl Strayed's books. PLUS: Fox developing a House Sitter comedy.
The 89-year-old tells about playing the unflappable Mrs. Garret in The Facts of My Life.