Should 'The Muppets' Get a Second Look?
The reaction to ABC's The Muppets (preempted tonight by It's the Great Pumpkin, Charlie Brown) might have been different if it had an all-human cast and less history. But because the show's characters have been around for four decades or more, it has been judged by a higher standard—and it hasn't been pretty.
"[The Muppets] is knowing, self-referential, low-energy, and a little jaded, perfectly promising qualities in a new sitcom, unless that new sitcom stars a green frog beloved for self-identifying as a "lover and dreamer … The Muppets turns the rainbow connection grey," wrote Willa Paskin at Slate, just one of many critics who panned the pilot. (TV Insider's own Matt Roush was slightly more forgiving.) After last week's episode, about Miss Piggy joining the crew of her late night show for a raucous karaoke night and producer Kermit having to get everyone working again, HitFix's Alan Sepinwall wrote that "a jealous and bitter Kermit sabotaging the crew's new and fun relationship with Piggy just made me sad, even if some of it was wrapped up in his desire to get everybody to work on time," a decried a "tonal balance" that's "out of whack" with what we've known the characters to be.
As a big Muppet fan going back to the early days of Sesame Street, I was in that camp. My enjoyment of the 10-minute "sizzle reel" that showrunner Bill Prady produced as a pilot was tempered when ABC promoted Kermit and Piggy's "break-up" during the summer, followed by salacious promos that implied that the egotistical pig had "relations" with Nathan Fillion and had Kermit drooling over a younger and prettier pig. Even the first episode made me unsure, given Fozzie's depression, Gonzo's romantic desperation and the overall feeling of drudgery that had descended over characters that in the '70s and '80s seemed to have such positive outlooks (except for Statler and Waldorf, of course). I thought Prady and company had ruined the characters I grew up with.
But then I kept watching, and I kept laughing. And something interesting happened: I started to forget about what the characters were like when I was a kid and just watched it like any other new sitcom. When an insecure Fozzie stole a candy dish from Jay Leno's house, I thought it was funny. When Kermit thought that Josh Groban's relationship with Piggy was ruining the show, and played to her ego to get her to dump him, it was well-executed. The Swedish Chef killing on "Rapper's Delight" was inspired.
The Muppets have always played to modern sensibilities, whether those sensibilities were the beatnik absurdism Jim Henson embraced when he created them 60 years ago, or commenting on the naïve "let's put on a show!" propensity of TV in the 1970s, or the working-to-keep-your-head-above-water ethic of today. It's a different era, and just like a straight, by-the-book remake of a show like Diff'rent Strokes would seem hopelessly outdated today, so would a show about the optimistic, earnest Muppets of the Carter administration.
Henson has been gone for 25 years, and The Muppet Show has been gone for almost 35. The franchise had been dormant outside of public television for so long that when Disney released Jason Segel's movie The Muppets in 2011, it created enough new fans to justify the modernization of the characters (the Fozzie of 1977 would never say the words "fart shoes," for example).
The ABC series should be seen the same way. Watching these characters interact with the real world and have real-world problems leaves things open for some real character development, much like Prady was able to achieve during his years running The Big Bang Theory. And if developing the personalities of The Muppets is the way to keep these characters relevant in the 2010s instead of stuck in people's 1970s memories, then the show will have done its job.
Prady is modeling The Muppets after The Office. And just as the American version of that show was given a chance to be judged separately from its British originator, The Muppets needs to be disconnected from Muppets of the past. Simply put, this is an adult workplace sitcom where the characters happen to be made out of felt, and it's got the potential to be pretty funny on a consistent basis. Given the lack of decent comedy on network TV these days, shouldn't that be embraced?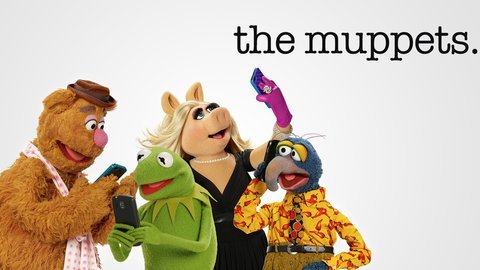 Powered by