'The Big Bang Theory' Launches the First Television-Inspired Scholarship for STEM Students
The worlds of comedy and education collided on Thursday afternoon when the cast of The Big Bang Theory joined creator Chuck Lorre in welcoming the first twenty recipients of The Big Bang Theory Scholarship Endowment to their Burbank, Calif., set. The scholarship was developed by Lorre to support UCLA undergraduate students in need of financial aid studying in the fields of science, technology, engineering and mathematics (STEM).
"A few years ago, we started noticing a spike of kids going into the STEM fields and one of the reasons why was, they were watching The Big Bang Theory," Lorre tells TV Insider. "That we had somehow made a situation comedy that was causing people to pick a positive career path was startling and remarkable."
With the help of The Big Bang Theory's stars, writers and producers, as well as contributions from studio partner Warner Bros. and network partner CBS, Lorre was able to raise over $4 million for the scholarship.
RELATED: Inside The Big Bang Theory's Writing Room
"It was a no-brainer," says Simon Helberg, who plays Howard Wolowitz. "These students were probably eight when the show started, and it probably shaped them a bit, so it's an amazing thing to be on a sitcom that actually inspires people to get smarter. All we do really is sit on the couch and have people film us!"
The Big Bang Theory also has well-established preexisting connection with UCLA. David Saltzberg, the show's science consultant, is a professor of physics and astronomy at the university, and star Mayim Bialik, who plays Dr. Amy Farrah Fowler, earned her real-life doctorate in neuroscience from UCLA. But don't expect her to serve as a mentor for these students anytime soon. "I would not be a good adviser at all because I cried my way through college and grad school thinking I was going to fail!" she says with a laugh. "One woman inspired me to be a scientist when I was 15-years-old, so if I can have some part of being inspirational as a female scientist, that's amazing."
Lorre plans to add five more students every year in perpetuity and hopefully expand the scholarship to more universities across the country. "But UCLA was a good place to start because it's local, so we're not strangers and we can get in their faces to make sure they're doing their studies," Lorre says. "I told them to keep in mind that show business is not an alternative, so stay where you are because we need you!"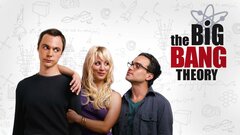 Powered by