'Gotham' Cast Revealed for New York Comic Con Panel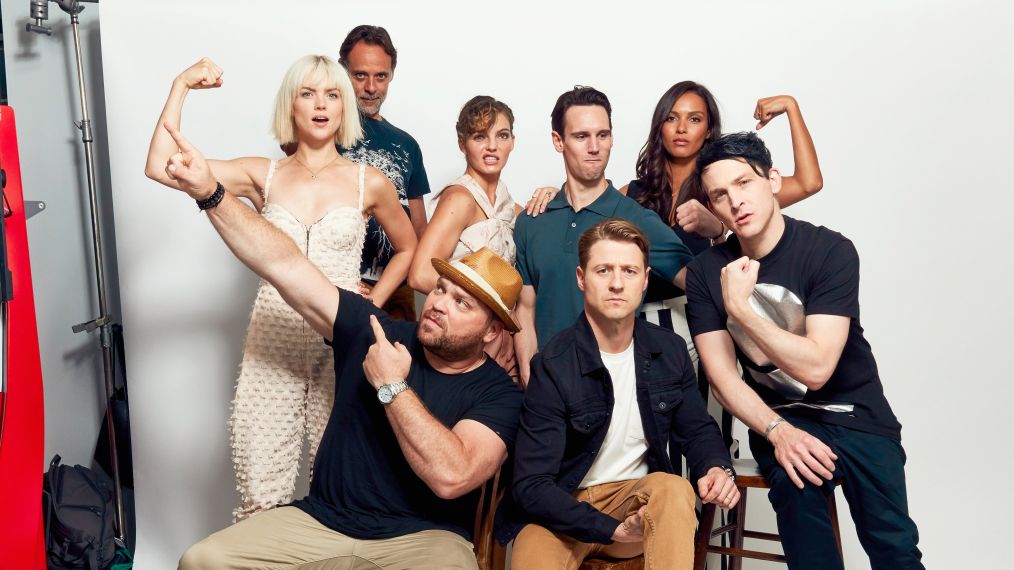 Robby Klein/Getty Images for Tv Guide Magazine
(L-R) Actors Erin Richards, Alexander Siddig, Drew Powell, Camren Bicondova, Cory Michael Smith, Ben McKenzie, Jessica Lucas, and Robin Taylor from FOX's 'Gotham' pose for a portrait during Comic-Con 2017 at Hard Rock Hotel San Diego on July 22, 2017 in San Diego, California.
Don't be surprised if seating at Gotham's New York Comic-Con panel is limited, because most of the chairs are set to be taken up by the cast!
On tap for the Q&A session—which is part of Sunday's Warner Bros. Television Takeover—are Ben McKenzie (Jim Gordon), Donal Logue (Bullock), Robin Lord Taylor (Oswald Cobblepot), Cory Michael Smith (Edward Nygma), Camren Bicondova (Selina Kyle), David Mazouz (Bruce Wayne), Sean Pertwee (Alfred), Erin Richards (Barbara Kean), Drew Powell (Butch), Chris Chalk (Lucius Fox), Alexander Siddig (Ra's al Ghul) and Crystal Reed (Sofia Falcone), as well as executive producer Danny Cannon.
The actor inside the scary-ass costume explains what Jonathan Crane is up to.
The lucky 13 will be tasked with talking about Season 4's Dark Knight theme, Mazouz's rise to Batman status, the new Barbara and, of course, McKenzie's turn writing for the show. There will, hopefully, also be info about Powell's evolution into Solomon Grundy and what we can expect from incoming baddie Professor Pyg.
So come early and stay all day. The Warner Bros. Television Takeover begins at 2/1c on Sunday, Oct. 8, at the Hammerstein Ballroom, with Gotham taking the stage at 3:45/2:45c.
Is Barbara Harley Quinn? Is Bruce ready to become Batman? Those answers and more!
Gotham, Thursdays, 8/7c, Fox