New 'Gotham' Season 4 Promo Art Reveals a Dark Knight Rising
The dawn of night has already gone dark!
In these just-released exclusive pieces of promotional key art, Gotham's Season 4 tag line has morphed from "Dawn of Night" to "A Dark Knight," inching Fox's inventive twist on the Batman's origin story even closer to the Caped Crusader's reign as Gotham City's resident masked marvel.
See Also
Is Barbara Harley Quinn? Is Bruce ready to become Batman? Those answers and more!
Back in July, the network unveiled an advertising shot of young Bruce Wayne (Davis Mazouz) gazing over the city that never gets a break (see the image at top of page), with the line "Dawn of Night." But now, we have these new pics, and they are even more in line with the mythos previously explored in the theatrical takes, albeit with the myriad variations from canon that Fox's series has so enjoyed taking.
In the first piece, which you can see above, Bruce is seen shadowing Jim Gordon (Ben McKenzie), bat-infused cape fluttering behind him and both looking suitably stern—which makes sense, seeing how the fourth season is set to pit the guys against DC Comics baddies like Professor Pyg (Fringe's Michael Cerveris) and Scarecrow (Charlie Tahan), along with pre-existing troublemakers Penguin (Robin Lord Taylor), the Riddler (Cory Michael Smith) and a reinvented Barbara Kean (Erin Richards).
In the second piece, below, which is clearly aimed straight at the the fandom that's been waiting for the Bat to come to town, a hooded Mazouz's Bruce stares out from behind an early version of the cowl that will eventually be part of his signature (and honestly, intimidating) look.
What do you think? Is Bruce ready to be the hero Gotham deserves? What else do you hope to see from Gordon & Co. this season?
Gotham returns Sept. 21 at 8/7c on Fox.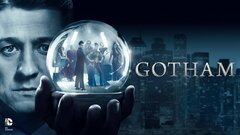 Gotham
where to stream
Powered by