Comic-Con 2017: Your 'Gotham' Burning Questions Answered
Gotham may have a new—but familiar—crime fighter on its hands come Season 4, and according to executive producer John Stephens, Jim Gordon (Ben McKenzie) is gonna need all the backup he can get!
Next stop, Batman? Now that he's an alley-fighting vigilante in a mask and flowy coat, Bruce (David Mazouz) is ready for some Bat-training, courtesy of Ra's al Ghul (Alexander Siddig). "Ra's returns right at the top of the season, and we see what his designs are for Bruce," Stephens previews of his new twist on the Ghuls from Batman Begins and Arrow. "It all circles around the core idea that Ra's views Bruce as his heir."
Speaking of mentors, is Tabitha (Jessica Lucas) going to be the anti–Obi-Wan to Selina (Camren Bicondova)? The mutual whip aficionados "start off as a real pair next season," Stephens says."Those skills that you associate with grown-up Catwoman, we're going to see Tabitha start teaching her at the beginning of this year."
Butch (Drew Powell) is…who exactly? In the ER after Barbara [Erin Richards] put a bullet in his brain, it was revealed that the lovable gangster's real name is Cyrus Gold…aka DC Comics zombie Solomon Grundy. "His arc next season is going to be exciting and a lot of fun," Stephens promises. "We wanted things to end in a bloody way for Butch, but we didn't want to lose Drew because we love him…and the Cyrus Gold thing fit really well."
Barbara isn't dead, right? You can't keep a bad girl down! Jim's ex definitely survived being electrocuted by Tabitha, so don't be shocked if a new Babs rises. "It's almost like she's two Barbaras."
Is one of those Barbaras actually Harley Quinn? Despite what you may have heard, "no one is becoming Harley Quinn," Stephens confirms.
Is Jim Gordon finally in a good place? If so, don't expect it to last too long. The new season will find Gotham in the Penguin's grip once more, and to fight him, Stephens says Gordon will "open up his dark side" more than ever: "We see him hit an ethical nadir by the first half of the season."
Any new baddies coming to town? In addition to the arrival of a major character from the Long Halloween graphic novel, Stephens reveals that there will be a big arc for "probably the most graphically violent, terrifying villain we've brought in. Some people could call him a butcher." Hint, hint.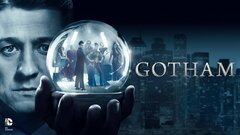 Gotham
where to stream
Powered by