'Kirby Buckets' Returns for a Hard-Boiled Look at Getting Even (VIDEO)
https://player.waywire.com/?id=6WKVWJ35M2S781F2
Prepare to get animated when Kirby Buckets returns to Disney XD.
In the Season 2 premiere episode, "Failure to Launch," the ever-artistic Kirby (Jacob Bertrand) is trying to start his own web channel, called "Kirblammo." Kirby's hoping to showcase his animation in one place, but his older sister, Dawn, takes overs the channel to upload embarrassing home movies of Kirby instead.
RELATED: 16 Family-Friendly Shows for the Whole Family
Before the episode airs tonight, watch an exclusive clip of a scene that shows Kirby and his friends, Fish (Mekai Curtis) and Eli (Cade Sutton), think of a way to get revenge on Dawn. Kirby's saved an embarrassing video of Dawn on a flash drive…and hid it in a jar of eggs. Problem is, Kirby's hiding place may have been too hard to crack.
The rest of the season will have Kirby meeting his future self during Prank Williams, Jr. Day and Kirby experiencing life in an alternate universe.
Kirby Buckets, Season premiere, Wednesday, Oct. 7, 8/7c, Disney XD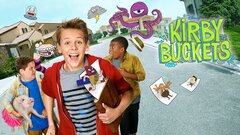 Powered by