Disney XD First Look: NFL Pro Athlete Willie McGinest on 'Lab Rats', Plus 'ESPN Sports Science' Premiere (PHOTOS)
Get ready for some football!
Disney XD will be hosting a "Touchdown Dance Party" next week with four shows, with the Disney XD ESPN Sports Science premiere kicking off the night's football-themed programming. Other shows include Kirby Buckets, Gamer's Guide to Pretty Much Everything and Lab Rats: Bionic Island.
On Lab Rats, Disney XD is sharing the exclusive announcement (with photo above)) that former pro football player Willie McGinest will guest star on the show. He'll appear as a judge who has to choose a winner between Perry (Maile Flanagan) and Davenport (Hal Sparks) when they both take part in a tailgate challenge. Perry also stirs up trouble when she isn't invited to a big college football game. Football fans will know McGinest from his years as a linebacker for the New England Patriots and Cleveland Browns. He's currently a football analyst on NFL Total Access.
I want 2 thank the entire crew & cast for a wonderful experience working on the Disney show LAB RATS #awesome pic.twitter.com/Pk3603VGmP

— Willie McGinest (@WillieMcGinest) February 20, 2015
As for Disney XD ESPN Sports Science, it will once again tackle the biggest sports myths and mysteries, this time with host Cameron Boyce (Descendants, Gamer's Guide to Pretty Much Everything) joining the usual Sports Science host John Brenkus. Get a first look of Boyce and Brenkus on ESPN Sports Science below.
Tune into the full "Touchdown Dance Party" lineup on Wednesday, December 2:
5:15/4:15c – Disney XD ESPN Sports Science premiere of "Testing Rookies"
8/7c – Kirby Buckets episode of "Atta Boy"
8:30/7:30c – Gamer's Guide to Pretty Much Everything episode of "The Longest Yard"
9/8c– Lab Rats: Bionic Island episode of "The Ultimate Tailgate Challenge" (with guest star Willie McGinest)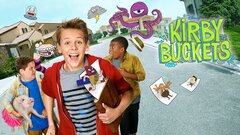 Powered by
Powered by