'Blindspot's Sullivan Stapleton Is 'Ready for Anything'—Even Some Hardcore Shipping
Blindspot may be a high-octane drama about a tatted, amnesiac woman (Jaimie Alexander) searching for answers—but she's not doing it all by her lonesome. Also hunting for the truth is Special Agent Kurt Weller (Sullivan Stapleton), an FBI star struggling to accept the mysteriously skilled Jane Doe as part of his inner circle. On tonight's episode, one of Jane's tattoos sends the team to the Centers for Disease Control and Prevention to stop a global disaster, and Weller and Jane grow closer. Stapleton clues us in on what's to come.
A puzzle expert helps decode a notable tattoo this week. How are you at puzzles?
I actually love the challenge of solving a problem, so this storyline fits well with me. I helped do one maybe a year ago. The child of a friend of mine was working on a landscape of Italy or something and I got drawn into it. I just wouldn't give up.
You suffered a skull fracture that put you out of commission for a while during filming of Cinemax's recently wrapped Strike Back. Were you hesitant to do another stunt-heavy show?
No, not at all. It was an unfortunate accident, and I survived. The stunts are the fun stuff.
Well, at least you don't have to get inked up like Jaimie.
That poor girl.
RELATED: 21 Fall Dramas Featuring Action and Intrigue
How are we going to see Weller and Jane's relationship evolve in this episode?
Weller thinks she could be linked to him from his past. He's focused on trying to solve this case, as it brings up something that happened to him when he was younger. It sort of delves into his past and who he is, which points toward their connection and why his name is on her back.
Do you see the possibility of a romance blooming between them?
I don't know. And I'm not trying to be some shady actor who's going, "I don't know!" when I do know. I actually don't know! That's the great part of this show—it could go any way. The most interesting part of work is getting these new scripts as we're saying, "All right, so what's happening?"
Regardless, fans are going to ship them. Are you ready for that kind of attention?
[Laughs]. I'm ready for anything.
Blindspot, Monday, Oct. 12 10/9c, NBC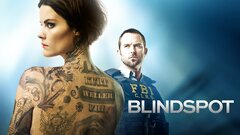 Powered by