'Pretty Little Liars' Spinoff, 'The Perfectionists,' to Star Janel Parrish and Sasha Pieterse
UPDATE (3/9/2018):
Freeform announced today more casting news regarding the Pretty Little Liars spin-off series called, Pretty Little Liars: The Perfectionists. Sydney Park, Kelly Rutherford, and Eli Brown are the newest additions to the series.
"Caitlin (Park) is described as smart, driven and thrives under pressure. The perfect daughter of two perfect mothers, Caitlin has set her sights on following in her mother's Senatorial footsteps. Dylan (Brown), a gifted cellist, grew up feeling judged in his small hometown and now feels the need to be the best in all of his endeavors. He is deeply committed to his two passions, his music and his boyfriend, Andrew," according to a press release.
Rutherford will play Claire, the matriarch of the Hotchkiss family. "She (along with her husband) is the founder of Hotchkiss Industries and the respected Beacon Heights University. Claire believes perfection is attainable and is the person who pulls the strings behind the scenes to get what she wants."
Additionally, Hayley Erin was been cast in an unnamed role.
ORIGINAL:
It's been three months since the Pretty Little Liars series finale aired in June, and fans are already getting more of the beloved Freeform series. On Mondayday, Freeform ordered a pilot spinoff to PLL called Pretty Little Liars: The Perfectionists, based on Sara Shepard's book series "The Perfectionists."
Are you ready for the most shocking part? Both Janel Parrish and Sasha Pieterse (who is currently competing on Season 25 of Dancing With the Stars) will reprise their roles as Mona and Alison, respectively, for the series. Pretty Little Liars showrunner I. Marlene King wrote the pilot and serves as an executive producer alongside Leslie Morgenstein and Gina Girolamo. No additional cast has been announced at this point.
The Perfectionists takes place in Beacon Heights, where everyone feels pressured to well, be perfect. The stress and pressure eventually leads to the town's first murder. It looks like secrets and lies will be just as frequent in The Perfectionists' Beacon Heights as it was in Pretty Little Liars' Rosewood, so get ready to not trust a single character you meet. Especially Mona.
Our biggest question right now—aside from how these two Liars will fit into this new world—is whether or not we'll get to see more of Emily (Shay Mitchell) and Alison's new family, because #Emison forever, right?
Let's just hope this one goes better than 2013-2014 series Ravenswood, which only lasted one season on ABC Family.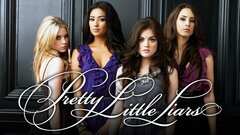 Powered by