'Lethal Weapon' is Getting a Fox TV Reboot The latest TV-to-movie reboot will try to recapture the popularity of the Mel Gibson/Danny Glover movie franchise. The TV series will feature the same key characters, Martin Riggs and Roger Murtaugh as LAPD detectives, with the same introductory storyline.
Despite being the No. 1 syndicated talk show, Dr. Phil is having trouble behind the scenes. According to The Wrap, "production is enmeshed in turmoil behind-the-scenes with rampant layoffs, benefit cuts and staff unrest."
The single-camera comedy, based on the Damage Control comic book, would focus on the overworked and underpaid Marvel cleaning crew that is tasked with dealing with the aftermath of superhero conflicts.
After being this summer's most-watched broadcast drama, CBS has picked up a second season of the TV drama based on James Patterson novel. Season 2 will air next summer.
Zarin and her publicist were part of a three-car pileup this afternoon, according to RadarOnline.
Leno made the viral marketing video for CNBC's Jay Leno's Garage.
Gellar is joining husband Freddie Prinze Jr. on the Disney XD series, not as a princess but as a crafty villain called the Seventh Sister Inquisitor.
The cancelation comes after creator Patrick Sean Smith tweeted all week to "#RenewChasingLife."
The ABC drama premiere's total viewership has soared from about 7 million to 12 million thanks to DVR and streaming viewers. That puts it at No. 2 among freshman shows.
Kimmel is, of course, married to his show's co-head writer, Molly McNearney. Kimmel says he, his wife and Twitter personality Kelly Oxford were sitting in their dining room, when they started reading their mean tweets. And his wife said, "Oh, this needs to be on the show."
Watch a preview of next week's Chanel-O-Ween episode, parodying Swift's Swiftmas gift-giving video.
The Tonight Show host is working with Hands High for a sports apparel line that will feature the logos of professional teams on the underarms — so that the logos will be revealed when people put their hands up for a high five.
She'll recur as a woman from Frank's teenage past who's Sammi's mom.
"Abbi works at a food co-op," reads the film permit for the Greene Hill Food Co-op.
Jeong's previous work on Community and The Hangover series broke new ground because he destroyed Asian stereotypes, says Arthur Chu, the former Jeoapardy! contestant. Dr. Ken, on the other hand, "is a formulaic sitcom that uses all the same tropes as white-centric sitcoms but scores 'diversity points' by casting an Asian family," says Chu, adding: "Dr. Ken flirts with "going there" but never fully commits to it, leaving its edgy humor feeling awkward and half-baked." PLUS: Jeong's Dr. Ken is a startlingly one-dimensional character in an even more startlingly flat situation comedy, Dr. Ken stands out as uncomfortable, unfunny, and forgettable, it confuses loudness with funniness, it's a relentlessly mediocre and formulaic half-hour of family comedy, Dr. Ken has a surprisingly decent beginning, and Jeong credits Fresh Off the Boat for his new show.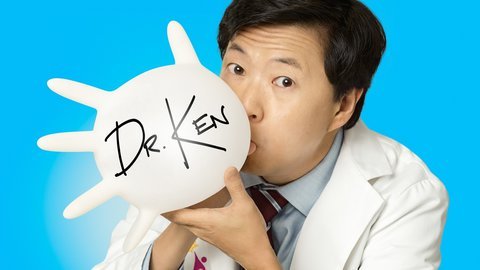 Dr. Ken
where to stream