Larry David Admits He Loves Getting 'Yelled at' on 'Curb Your Enthusiasm'
You know that hair above a bald man's ears? Larry David is tugging at his. It's grown even whiter and wispier since his semi-autobiographical comedy, Curb Your Enthusiasm, last aired on HBO in 2011. "How do I look?" he asks, making it stick out. Honestly, mostly like a 70-year-old white guy who's rich enough (he co-created Seinfeld) to wear wrinkled khakis outside of the house and powerful enough to insist on doing this interview over FaceTime from his Los Angeles digs rather than on the phone. "I want to see people when I talk to them. Is that so bad?" he says. "I don't FaceTime with my friends. I know what they look like. I have no idea what you look like." Can't argue with that.
After a lot of rumors, HBO finally confirmed last year that Curb's ninth season would be a go, and big-timers like Bryan Cranston, Elizabeth Banks, Jimmy Kimmel, Nick Offerman and Elizabeth Perkins quickly signed on to guest star. Regulars JB Smoove (as Larry's unlikely roomie, Leon), Jeff Garlin (as his agent, Jeff) and Susie Essman (as Jeff's vulgar wife, Susie) are back. Also in: mainstays Richard Lewis, Bob Einstein, Ted Danson, Mary Steenburgen and Larry's on-screen ex-wife, Cheryl Hines. But, on Curb, most people hate Larry, whether he deserves it (maybe don't eat the frozen yogurt meant for Susie's dog's last meal) or not (hiring a hooker so you can drive in the carpool lane is pretty genius). The real Larry couldn't wait to return to that. Truly, we asked him!
Do you remember your first conversation about Season 9?
Yes, it was in May 2016 with my executive producer Jeff Schaffer. I said, 'I want to do the show again, do you?' And that's it. We were coming back.
What made you want to do it?
I truly missed the characters. I missed the interactions between Larry and everyone else. I love how I talk about him in the third person now. I should just say "I," right? Because he's me. I…I…I…I can't do it.
So, Larry on the show is truly your id? That's not just something people assume?
Totally. He's me. I am him.
Most of his exchanges with other people end with him on the wrong end of a screaming match. Did you miss that too?
Oh, I love getting yelled at on the show as Larry. As me, I love it too. I always laugh when it's happening [on set]. No one yells in real life. You never see it. So it's funny to me [when it happens].
You've been so tight-lipped about the new season. What scares you about spoilers?
Why wouldn't you want to be surprised? What's the point if you know what's going to happen?
You could enjoy the journey. [Laughs.] So what was your reaction when the premiere leaked online this summer?
I was horrified. Horrified.
We do know some details. Like, Judge Judy Sheindlin appears as herself—and the only person Larry considers his moral superior when it comes to knowing right from wrong.
She is a great lady. She's also my ex-brother-in-law's cousin. We had a lot of fun.
Gilmore Girls' Lauren Graham plays an NBC censor with whom Larry has a "unique" relationship. Is that a bit taken from your real life?
Yes. On Seinfeld, I used to have these phone conversations with an NBC censor, and she'd be saying things like "You have to take out two 'breasts' here." It was like dirty talk. In fact, it was the only time I've actually dirty-talked.
Everybody has talked a little dirty at some point.
Not me. Ever. I could never make myself do it.
Have you ever hired an actress for Curb whom you totally wanted to make out with?
Absolutely, but that's what you do. I mean, let me be clear, most of the time when you cast a love interest, you're casting someone you want to make out with. Because you have to think they're a person that someone would want to make out with. Sometimes that character is you.
Larry always ends up angering his dates without realizing it. He doesn't seem to have intent on any of his scrapes. He believes what he says and does. Is he an innocent who's unaware of the possible repercussions?
It's not that he's innocent. It's that he's right. And he's not afraid to say it. The world can use a little more Larry.
Curb Your Enthusiasm, Sundays, 10/9c, HBO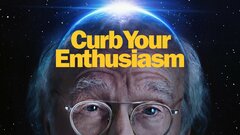 Powered by