'Empire' Premiere: Season 2 Starts With Craziness and Questions
There were Mr. T outfits and gorilla costumes and heads in boxes … sounds about right for the return of TV's splashy, soapy hit Empire. You've watched and tweeted and recapped, but inevitably there will be questions. Such as …
Should we expect more forays into political territory like the #FreeLucious concert?
The show opened with a rally highlighting the problems of mass incarceration, tied (if kind of inaccurately) to the imprisonment of patriarch Lucious Lyon (Terrence Howard). Last season leaned into issues of homophobia; will this season draw more on #BlackLivesMatter and other social movements or political themes? Co-creator Danny Strong told The Daily Beast it was likely:
"Absolutely. We're living during Ferguson and Michael Brown. We're in a very high point in American race relations, particularly with police harassment. We definitely felt like we needed to dive into those issues on the show. We felt like that's what's happening in America right now so let's talk about it. "
What's up with the gorilla costume?
Paolo Nieddu, the show's costume designer, told Vulture that Lee Daniels came up with the idea, inspired by Marlene Dietrich's gorilla-suit turn in Blonde Venus. You can also thank Nieddu for making sure Cookie arrived in spectacular style:
"[I]nitially it was scripted that Cookie would be wearing a 'Free Lucious' T-shirt … I said to [show creator] Lee [Daniels], 'Okay, well maybe hers doesn't need to be a T-shirt. I don't want the first time we're gonna see Cookie in season two to be her wearing a T-shirt!' I felt like it was such a disappointment."
Fortunately, Cookie arrived in Gucci, not a mass-produced tee.
Was the part of lesbian investor Mimi Whiteman made for Marisa Tomei?
She might be owning the power-b-itch role, but the character was originally supposed to be a man, showrunner Ileane Chaiken told TV Line:
"We initially conceived of the storyline: Cookie, Hakeem and Andre — and tangentially Anika — are going to attempt this hostile takeover. We ended Season 1 with them still needing to raise a quarter of a billion dollars — how are they foing to raise it? And we said in the room: "There's going to be a rich white man. Let's call him Rich Whiteman for the purposes of this conversation." … As we talked about the arc, we realized Rich Whiteman was an important character — and he also needed to be an interesting one. At that point, someone in the room — I can't remember who — said, "Let's make her a lesbian." Actually, it was probably me. And we just had some fun with the idea of the lesbian billionaire.  "
Is Frank Gathers (Chris Rock) a cannibal?
Welllll kind of …. The Hollywood Reporter cites "multiple insiders" saying the villainous baddie on whom Cookie (Taraji P. Henson) snitched last season was intended to be a consumer of human flesh, but Fox execs objected:
[Show creator Lee] Daniels, who directed the season opener, is said to have ignored the mandate and shot the Rock story as initially envisioned, including one particularly grotesque scene featuring the actor with a plate of human body parts before him. Rock agreed to return to the series' Chicago set for reshoots this summer, where sources say the cannibal plotline was scaled back to the point of barely detectable at the network's insistence.
Is Jamal doomed to the dark side?
Jamal's getting colder now that he's in control of Empire, right down to kicking his family out of the safehouse. Strong also told The Daily Beast that he and Lee intended a "Michael Corleone-esque arc" for the middle Lyon.
"He was going to go from the underdog to the person running the empire, but it was going to corrupt him. That was always our intention and we're just fulfilling how we always saw it."
He did get a solid face-slap from his mom Cookie. Did it hurt?
Seems the two really committed to the scene, according to actor Jussie Smollet:
I literally told @TherealTaraji to slap me as hard as possible. "I'm from DC boy don't play!" she said. Then seriously went all the way in✋🏿

— Jussie Smollett (@JussieSmollett) September 24, 2015
Hell yes it hurt! My face was swollen after haha. Real talk. But it should feel real. Jamal needed that slap https://t.co/kCZhO0GyUm — Jussie Smollett (@JussieSmollett) September 24, 2015

Wait, whose head was in the box?
That severed body parts barely warrant a 2 second look says a lot about how wacky the show can get. For those who missed it, writer-producer Attica Locke confirms:
Yes, that was Jermel's head in a box. Yes, that happened. Don't sleep on this show. #Empire #EmpireSeason2

— attica locke (@atticalocke) September 24, 2015
Wait, who's Jermel?
Cookie's cousin, who offed Frank Gathers' buddy Teddy McNally in Season 1 at her behest when she thought Gathers and McNally were responsible for the roses she was receiving (which she thought were death threats but turned out to be from Lucious.) Also known as the guy you saw all banged up in prison while Chris Rock Frank chowed on a bloody slab of … whatever that was. We know, it's easy to forget some of the plot details. We also briefly forgot that Rhonda was pregnant and had committed murder to save Andre from Vernon—but hey, when that's the C-plot, keeping up with every character is clearly a Herculean task.
Who is Chris Rock's rapping daughter?
Frank Gathers freestyling daughter Freda Gatz caught Lucious' ear on-screen; off-screen, that's burgeoning hip hop star Bre-Z. Taraji P. Henson took to Instagram to share the cast's adorable welcome to their new castmate:
Aww, cute. But were Rhonda and Boo Boo Kitty not invited?
Nah, Kaitlin Doubleday and Grace Gealy were just busy on set:
@gracegealey and I are missing the @empirefox premiere cause we are on set…and this is how we feel pic.twitter.com/mXTpngQEYX — Kaitlin Doubleday (@KaitlinDday) September 24, 2015
Wait, where was Tiana?
Serayah says don't panic:
What else did I miss?
Empire, Wednesdays, 9/8c, Fox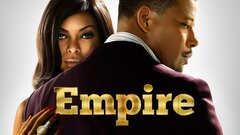 Empire
where to stream
Powered by