'Marvel's Agents of S.H.I.E.L.D.': 6 Reasons to Get Excited About the First Episode's Opening Scene (VIDEO)
USlOuo87
Coulson & Co. are back and more fierce than ever in Season 3 of Agents of S.H.I.E.L.D. Before the first episode premieres, ABC released a clip of the opening scene, which lasts just under five minutes. After watching the video above, here are the six reasons you should be excited about the new season:
1- Fish Oil Is Making a Comeback The last time we saw Jiaying's Terrigen crystals, they ended up at the bottom of the ocean, absorbed by fish…that then ended up in bottles of fish oil supplements. We don't wait long to see the fish oil wreak havoc, as the camera pans across overturned bottles to reveal a trail of broken Terrigen Mist shell pieces that can only mean…
2- …More Inhumans Are Coming! Right away, we meet a newly-minted Inhuman named Joey (Juan Pablo Raba, Narcos) who's like a reverse Magneto, melting (instead of bending) everything metal that he touches with his bare hands. So…he probably won't be riding his beloved motorcycle any time soon (without some special gloves).
3- Secret Warriors Are Seen in Action At the end of last season, Coulson offered Skye a chance to join a special team (codename: Caterpillars, but better known as the Secret Warriors) of enhanced people tasked with finding other enhanced people. Given Mack's shaky history with both Skye and Nick, it's interesting to see the trio not only working together as a team but as a cohesive and efficient one. (I mean, how did they disappear so fast after saving Joey?!)
RELATED: (Video) Watch the S.H.I.E.L.D. Cast Goof Off
4- Skye Introduces Herself as Daisy Skye's powers are "seen" first before she is, but once she appears with a new lob and a new black suit, she just exudes strength. She's confident, and she just owns her birth name, Daisy. This is pretty amazing, given how much her character has grown from being a self-named hacker to rookie S.H.I.E.L.D. agent to full-on Inhuman. Skye is more kick-ass than ever.
5- The Big Bad Is a Woman Finally, a female villain to shake things up after two years of HYDRA and several male antagonists. Rosalind Price (played by UnREAL's Constance Zimmer) is the mysterious leader of the Advanced Threat Containment Unit (ATCU), which is also hunting down Inhumans. But even Coulson knows little about Price, judging from his paparazzi photo of her. Still, her sleek haircut and cold, steely glare show that she's not someone you cross.
6- Surprising Special Effects If you didn't get chills seeing the decompression pod descend out of nowhere, then ascend like a rocket to reveal a breathtaking aerial view of the city, before entering the Quinjet, then…watch the video again! (Plus, that closing image of Coulson flanked by Skye and Ward is a good indication of who's going head-to-head this season….)
Now we just have to wait a few more days to get answers to other lingering questions: Where did Simmons go, and how soon will she be found? Has Bobbi fully recovered? How is Ward going to lead HYDRA? And where is the team's other kick-ass female, Melinda May?
RELATED: Get More Scoop About New and Returning Fall Shows
Season 3 of Marvel's Agents of S.H.I.E.L.D. returns on Tuesday, Sept. 29, 9/8c, ABC.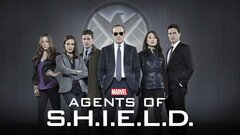 Powered by