Emmys 2017: Sean Spicer Makes Surprise Appearance During Stephen Colbert's Monologue
Stephen Colbert kicked off the 69th Primetime Emmy Awards on Sunday, Sept. 17, with a song and dance number including bedazzled dancing Handmaids and Anthony Anderson from ABC's Blackish.
But what left the crowd with their jaws on the floor was Colbert's stab at Real Time with Bill Maher host, Bill Maher, for using the N-word on his show earlier this year.
And then, without warning, former White House Press Secretary Sean Spicer, appeared onstage pushing a podium to mock himself and President Donald Trump.
See Also
Stars hit the red carpet of the 69th Primetime Emmy Awards accessorizing their glamorous gowns and tuxedos with a special blue ribbon. Here's why.
"This will be the largest audience to witness an Emmys, period. Both in person and around the world," Spicer said.
.@seanspicer borrows @melissamccarthy's podium for a surprise appearance at the #Emmys pic.twitter.com/xGOezHygVa

— Variety (@Variety) September 18, 2017
The joke was meant to make light of Trump's interpretation of the crowd size at his own inauguration in January.
Of course, the camera panned to Melissa McCarthy, who portrayed Spicer on Saturday Night Live and won an Emmy for her guest role on the sketch comedy show.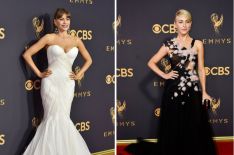 See Also
Celebrities hit the red carpet of the 69th Primetime Emmy Awards on Sunday, September 17, 2017. Who will be the best dressed? Who will be the worst dressed?