'Lethal Weapon' Season 2 More Lethal Than the First (PHOTO)
Fox crime drama Lethal Weapon, which rebooted the popular film franchise last year into series form, may have shifted from Wednesdays to Tuesdays for Season 2, but as you can see from the just-released key art below, it's the same lethally fun show.
In the series, Damon Wayans (My Wife and Kids) takes on the role of Detective Roger Murtaugh (Danny Glover in the films) while Clayne Crawford (Rectify) puts his own spin on the role of Detective Martin Riggs (Mel Gibson). In their police partnership, Murtaugh is a little more by the book and Riggs likes to push the envelope (which may or may not help with his personal demons), but despite their differences, the pair's track record for bringing down the bad guys is pretty darn good. The series also stars Jordana Brewster, Keesha Sharp, Kevin Rahm and Johnathan Fernandez.
Earlier this week at the Television Critics Association summer press tour, series creator Matt Miller said Riggs' personal demons—much of which have to do with the death of his wife at the start of the series—won't go away in the second season.
"We never really want a healthy Riggs," he said. "What happens [in season 2] is he gets over the loss of his wife but what we come to realize is that the problems with this guy run much deeper. So we start to get deep, deep, deep in his backstory that has made him the kind of broken guy that he is today."
And for those hoping Riggs will find love again, Hilarie Burton, who was a love interest for Riggs in Season 1, returns as DEA Agent Karen Palmer. Michelle Hurd has also been cast as the new precinct boss.
Check out the key art for the second season of Lethal Weapon:
Lethal Weapon, Tuesdays, 8/7c, Fox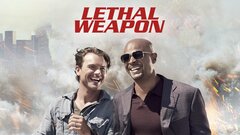 Powered by