Somewhere in Time: 'Outlander' Reunites Claire and Jamie for a Sexy Season 3
Flames leap up into the dark winter sky above a narrow cobblestone street in Old Town Edinburgh, Scotland. An out-of-breath Claire (Caitriona Balfe) and Jamie Fraser (Sam Heughan) burst through the crowd of terrified onlookers and rush toward the burning building. Yes, fans, the sexy soulmates reunite—setting off serious sparks of their own—in Season 3 of Outlander. Then, of course, they get swept right back into danger.
"Their reunion is big, but so much happens to them even before that," says a soot-smudged Heughan on set during a break in filming.
The buildup is indeed as good as the super steamy payoff. So far, the time-traveling nurse and her beloved Highland warrior have tried and failed to change history, repeatedly rescued each other from sadistic British army captain Black Jack Randall (Tobias Menzies) and left a trail of tangled bedsheets in their wake­.
This season the canvas gets even bigger. "We cover more time periods, and there's more complexity in sets, costume, hair and makeup," says executive producer Ronald D. Moore. "It has such scope and spectacle." (This from a show that in Season 2 re-created the opulent French Court at Versailles!)
The supersize production, based on the nearly 900-page third book in Diana Gabaldon's bestselling series, is why the show's devoted 5.2 million viewers had to suffer a 14-month Droughtlander. After shooting in Scotland on sets new (like the grimy Ardsmuir prison, where Jamie is held for treason) and old (Lallybroch), the cast and crew headed to South Africa for three months, using ships from former Starz series Black Sails, for the pair's stormy, game-changing journey to Jamaica.
"We broke the season in half emotionally and narratively," Moore explains. The first five episodes cover the 20 tumultuous years the Frasers spend apart after a pregnant Claire time-travels through the stones back to the 1940s, on the eve of Scotland's Battle of Culloden, in which she believes Jamie died.
CLAIRE'S STORY
A glimpse into Claire's pre-reunion world comes the next day in an Edinburgh college classroom. Balfe is wearing a trim skirt suit to shoot Claire's first day at medical school in Boston, where she's living with husband Frank Randall (also played by Menzies) and young daughter Brianna. The all-male class is frosty, except for Joe Abernathy (Wil Johnson), who is destined to become her friend and ally.
"Claire's a trailblazer, the only woman in her class," says Balfe, sitting on the tiled hallway floor between scenes. "It's so nice to play different parts of a woman and not just, 'Oh, I'm in love, I'm in love!' Claire's much more stoic. There's a stillness, a quietness to her that
reflects where she is in life now."
Claire throws herself into her studies and tries to rekindle things with Frank. "They're building a life together against all odds, but there's a lot of disappointment," Menzies says. The flawed relationship has a rallying point: Bree. "Initially, Frank agrees to raise another man's child because it's the price he has to pay to be with Claire. But when Bree arrives, she
becomes his focus."
As the season unfolds, and Bree grows, her sassy personality emerges. (Hello, Jamie Junior!) Now that she knows who her real father is, "She's having an identity crisis," says Sophie Skelton, who plays the adult Bree. "She's trying to decipher which bits of her are Jamie and which are from Frank." Her quest—with help from smitten Oxford professor Roger Wakefield (Richard Rankin)—brings mother and daughter closer, even though Bree knows Claire will probably go back and they'll be torn apart.
JAMIE'S JOURNEY
The man they're looking for, though, is barely holding on. The bloody Battle of Culloden has decimated his beloved Scottish Highlands culture and killed his friends.
"Jamie is on the run, using other identities, living as different people and dealing with the loss of his true love," Heughan says. "He's weighed down. All the things he has lost or opportunities he's missed age him. He wonders why he's alive and what he has to live for."
One thing that makes it more tolerable: He's finally killed his nemesis, Black Jack Randall, on the battlefield. (We'll miss that sneer, Tobias Menzies!) But Jack will always haunt Jamie. And he is soon thrust into a complicated relationship with another British army officer, Lord John Grey (played by new cast member David Berry), whom he first met briefly as a 16-year-old soldier last season.
"Jamie and John were once enemies," explains Heughan. "Then they form a friendship. Grey comes to play a pivotal part in Jamie's life."
TOGETHER AGAIN
But it's Claire's return to the 18th century that changes everything when she enters the Edinburgh print shop Jamie is running. (Fun fact: Heughan's mom is a printmaker.) We hope you saved your solar eclipse glasses, fans. Watching these two release 20 years of pent-up longing could burn your retinas.
"Today, we filmed the moment where she's walking up to the shop," Balfe says, still glowing from the joyful scene. "It's a smorgasbord of emotions. That void she's lived with for 20 years has the potential to be filled. It's both terrifying and exciting for her. But when she sees Jamie, everything [negative] evaporates. That's why they're soulmates."
After their sizzling reunion, reality sets in. "They have held each other up on pedestals for all those years," Balfe says. "At some point, they have to come down."
When they do, it's a hard fall. "Jamie has some secrets he doesn't readily reveal to Claire," Heughan teases. "He's been through some dark periods." She soon finds out, and there are consequences.
Another wrinkle: Claire's new career. "Claire has always been strong-willed and a healer," Balfe says. "Now Jamie has to adjust to the fact that this lifelong Hippocratic oath is as important to her as her oath to him."
It's not long before they have to put their bickering on the back burner to help Jamie's nephew, the now grown-up Young Ian (John Bell), who will have a major role in the series. "He's the catalyst for a massive transition," Balfe hints. "He is sweet and earnest, yet he gets himself into trouble. It's up to Claire and Jamie to rescue him."
RELATED: Sign up for TV Insider's Outlander newsletter
That rescue drives the show to the high seas and toward exotic islands, supernatural rituals and more unexpected reunions. "You never know who's going to come back around and in what context," Moore hints. "All our characters kept getting into even darker and weirder places."
Getting to those places is a journey fueled by passion. Back on the fiery set in Edinburgh, Claire grabs Jamie's arm and the two lock eyes in wordless understanding. "What I love most about this year is watching Claire and Jamie accept each other again," Balfe adds. "Underlying everything is that deep connection that they've always had."
Outlander, Sundays, 8/7c, Starz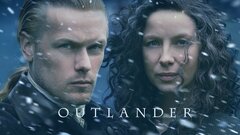 Powered by