Ask Matt: A 'Chicago Fire' Tease, New Dawn for 'Midnight,' a Late Fall Start, 'Miami Vice' Reboot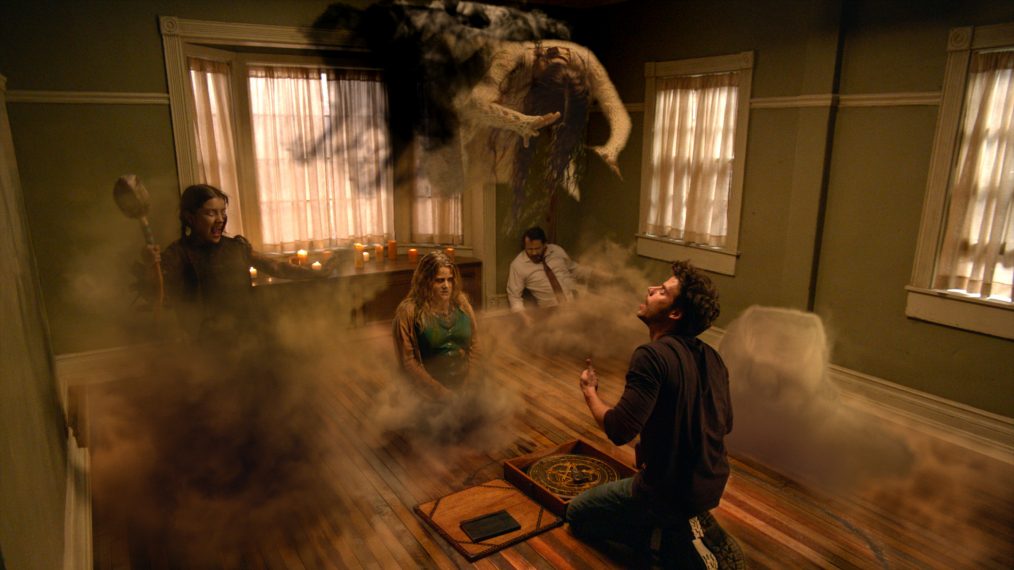 Did Chicago Fire Spoil a Major Death?
Question: What is the NBC marketing department thinking? They end Chicago Fire on a cliffhanger with members of the team trapped in a burning building, and then they promo the new season with an ad that shows a scene from a funeral and an "In Memorium" photo of one of the stars?!?!? Why bother watching the season premiere? I already know now what I'll be seeing. I find this decision confounding. — Sharon
Matt Roush: Rule of thumb: Don't believe everything you see in promos, especially when hyping season premieres or finales. I make it a rule not to provide spoilers or even discuss them in most cases, but does anyone really think NBC would tip its hand so blatantly regarding the demise of a major character and series star? Even if I knew what was going to happen—and after consulting with our in-house Fire expert, I still don't—I would be very skeptical about this shameless tease. (There have been instances when a network's promo department goes overboard with revealing too much, upsetting producers and viewers alike, but the stakes are so high in an instance like this that I seriously doubt this was done by error.) That said, if the promo really is a preview of coming tragedy, then I'll be as shocked as Sharon is now.
Will Midnight See a New Day?
Question: I'm so with you on So You Think You Can Dance; I refused to watch the kiddie season and am just not that interested in the All-Stars version. It really needs to get back to the original format! But my question is really about NBC's Midnight, Texas. I'm liking this show a lot. I am a real fan of the books and it seems to stick to the spirit of Charlaine Harris's work very well. How is it doing ratings-wise? — Ashley
Matt Roush: By summer network standards, Midnight appears to be doing OK, and I'll be surprised if NBC doesn't renew it. For those trying to keep up with this fanciful monster mash (I've fallen a bit behind), the final run of episodes airs next Monday and Wednesday, with the finale set for Monday, Sept. 18, titled "The Virgin Sacrifice." Wait, there are virgins on this show?
---
Impatient for the Fall to Start
Question: I look forward to TV Guide Magazine's Fall Preview issue. When looking at it this week, it seems that all shows are starting a week later than they did last year. Is this a trend? Can we see the new season starting in October next year? — Kaye C
Matt Roush: It's true that most years, the official TV season would start right after the Emmys, which would typically be Monday, Sept. 18, but this year for some reason, the actual premiere week (with a very few exceptions) starts the following Monday, Sept. 25. As long as a fall season is still a thing—with so much year-round programming, that's hardly a guarantee—you'll probably still see it kick off in late September, though maybe not this late. The upside: The later a show starts, the later it will be for reruns to kick in.
---
Back to Miami
Question: While this query may be a little premature, I'm curious if NBC's planned Miami Vice reboot is going to be an actual reboot (a la CBS's MacGyver) or a timeline-continuous spin-off (a la Fuller House)? If the latter is the case, will one or both of the spin-off's lead characters be the off-spring(s) of Crockett and/or Tubbs? —Alex
Matt Roush: It's way too early to know the specifics, or even if this will actually see the light of day—though with this coming from Vin Diesel's production company as part of his overall deal with Universal TV, it's a good bet. My best guess is that, much like the 2006 movie from Michael Mann (who doesn't appear to be involved in this version), the new Miami Vice for TV would provide a fresh take on the Crockett-Tubbs characters, much like Fox did for Murtaugh and Riggs with its series adaptation of Lethal Weapon. As the show goes through development and casting, more should become clear.
---
In Praise of Light Comedy
Question: I know you really don't like Kevin Can Wait, but some of us like these shows. It's a show I can watch while multi-tasking. Does every show have to make us think really hard? I don't care that his wife dies. Shows change all the time, and for a show no one seems to like, there sure is a lot of anger over a character being killed off. And Will & Grace will only be watchable to me if they leave the politics out of it. I don't want to watch shows that feel the need to lecture or educate us, especially if they are supposed to be a comedy. Politics have become a lot more volatile over the years, and the stars themselves have let their own stances be known publicly. So I can't see them trying to make it their own opportunity to push as often as they have a chance. The first time I saw the Young Sheldon promo I loved it. Now, after a hundred views, it just doesn't look all that appealing. I've asked some friends and they have said the same thing. Can't put our fingers on it but it will be interesting to see how it does in the ratings.
One last note on cable: Episodes has been killing it this last season but Ballers seems totally lazy. Hard Knocks seems to be focusing more on personal lives than the actual training for games and makes you wonder if they are trying to get away from it being a contact sport. It's been pretty boring. Manhunt: Unabomber has been quite fascinating and we're learning a lot that we didn't know. The acting has been great. Now off to read more of your fall picks! — Teresa
Matt Roush: There's a lot of ground to cover here, but let's focus primarily on the nature of TV comedy, while noting that it's impossible for everyone to agree on what's truly funny. I too am a bit amused at the uproar over the killing off of Kevin's wife, given the utter mediocrity of the show, though it's hard to imagine a more callous solution to a presumed chemistry problem. And from where I sit, applauding anything for being a show you can multitask through is damning with the faintest of praise. But that's OK. As I noted in my Fall Preview this year, there's obviously a place for comfort-food TV on the networks, because they're certainly giving us enough of it this fall. I just find Kevin and its CBS companion piece last season, Man With a Plan, so lazy in format and execution, and if I want light laughs, there are plenty of quality shows like The Middle (and ABC's brand of family comedy in general), Brooklyn Nine-Nine, The Big Bang Theory, etc.
Regarding Will & Grace, which I have yet to see a full episode of, it's impossible to imagine it won't be lobbing pointed jokes dealing with all aspects of today's culture, political and otherwise. Why else bring it back? As long as it's funny and in character, I'm OK with that. These days, whatever side of the divide you may be on, you need a pretty thick skin to be able to lighten up. And I hope you keep an open mind about Young Sheldon, and don't let the promos wear you down. (Seriously, folks, mute the TV during promos if they upset you that much!) Your first impression may have been spot-on. The pilot isn't perfect, but it is charming, with the only caveat that if you're expecting a carbon copy of Big Bang, you may be disappointed.
And yes to Discovery's Manhunt: Unabomber, a terrific docudrama that is well worth discovering. The finale airs Tuesday, wrapping one of the summer's best shows.
---
Showtime or All Access?
Question: Why does CBS keep trying to get more All Access subscribers by creating new shows available only on All Access, when they can put those same shows on Showtime—which could use better programming (especially in the summertime)? Because of this, I canceled my Showtime subscription and plan to use it only one month a year to catch up on Billions and Homeland. Does CBS realize how upsetting this is to Showtime subscribers? — Phil from Pomona
Matt Roush: Ouch. But an interesting point, as I continue getting mail from viewers who are trying to figure out just how many (or few) services they'll need to subscribe to, in addition in many cases to an already monstrous cable bill, before this is all over. For CBS, the All Access platform in an important new potential revenue stream, which is why they're producing high-profile original and exclusive content to drive subscriptions, albeit creating discontent among the loyal CBS audience which wishes these shows would just air on the network for free. Showtime, being part of the same corporate family, is in competition for those same dollars, obviously, and while there is a deal to combine the two services for a bundled price, many probably wouldn't see it as much of a bargain.
That's all for now, and we'll pick up the conversation again soon, though I'll be taking a brief break for Labor Day. Thanks as always for reading, and remember that I can't do this without your participation, so please keep sending questions and comments about TV to [email protected] or shoot me a line on Twitter (@TVGMMattRoush), and you can also submit questions via the handy form below.