5 of the Most Quotable Lines From 'Broad City' Seasons 1-3
Did you know that Broad City has a higher Rotten Tomatoes rating than Mad Men, Breaking Bad and Orange is the New Black? You don't want to be caught on the wrong side of history and make the poor decision to not be a Broad City fan.
To start off your uncontrollable spiral into becoming an Abbi and Ilana superfan, and to get you ready for Broad City Season 4, here are the most quotable lines from Seasons 1 to 3.
About Jon the Waiter
At an incredibly upscale seafood restaurant, the girls encounter a waiter who appears extremely talented in more ways than one. Ilana's remark accurately explains the universal feeling of crushing on someone out of your league. The prowl might seem mute, but the fawning will not cease under any circumstances.
Boat Sex
Broad City fans are absolutely in love with how much Ilana is in love with Abbi. She's her motivational coach, ride-or-die, and best girlfriend wrapped in one. Her unconditional love is both inspiring and heartwarming, making fans wish that they could posses a love for someone as strong. Or at least have a friend that would gas you up as much as Ilana does.
Feminist Heros
Abbi encompasses the adage that anything can serve as inspiration in this Amelia Earhart analogy. It serves as motivation more than it should, but it leads to Abbi and Ilana reaching out to every person online that they wanted to hit on. An act of bravery and courage, the duo deserves praise for breaking this glass ceiling.
What a time to be alive
One of the reasons Broad City is considered comedic genius is because of its ability to relay to viewers that what was once taboo isn't anymore. Shame is the last thing that'll defeat this power duo. Every social controversy is rightfully game in their world, and Abbi and Ilana are proud to own it.
Taking a Breather
Abbi takes the cake for saying ridiculous statements that strangely make sense when intoxicated. In this scene, she talks about animals from childhood that are most likely dead, which, in a way is true. Is she talking about the actual lifespan of a cartoon animal or the death of a character's relevance to children? You'll never know, and that's the beauty of Abbi when high.
Broad City Season 4 premieres Wednesday, Sept. 13, 10:30/9:30c, Comedy Central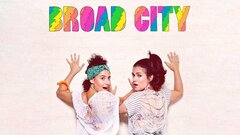 Powered by