Jimmy Fallon Tries to Out-Trump Trump on 'The Tonight Show'
Republican presidential candidate frontrunner and real estate magnate Donald Trump stopped by The Tonight Show Starring Jimmy Fallon on Friday for the former Apprentice host's first late night interview since announcing his candidacy. Before he sat down for the interview portion of the night, however, Trump did a "Trump in the Mirror" sketch with Fallon.
The sketch involved the two decked out in the same outfit (with the same hair to boot), framed photos of Trump adorning the walls, and only hair products gingerly placed to the edges of the vanity. Jokes from Fallon (as Trump) included: "I'm about to go out for my interview with Jimmy Fallon. I'll call you back after I comb my hair. Talk to you in three hours," and "The only one qualified to interview me, is me."
When Fallon (as Trump) asks (the real) Trump "How are you going to create jobs in this country?" the candidate responded with a simple, "I'm just going to do it." What followed was a bunch of exclamations of "huuuuuge" and "geniuuuuus."
Fallon's best one-liner of the night came deeper into the sketch however: "I'm like a Greek god that just took a bath in a pumpkin spice latte."
Fallon also asks, "If you win, is your vice president going to be Gary Busey?" To which Trump said: "Look, I love Gary. He's fantastic, more of a Supreme Court justice kind of guy… vice president is a serious job. So I'll probably go with Kanye West."
Democratic presidential candidate Hillary Clinton will be appearing on Fallon's show Wednesday, September 16. Chris Christie appeared on September 1.
Trump isn't the only mogul stopping by Tonight Show either. Terrence Howard, who play's Empire's Lucious Lyon will also be appearing tonight, as well as a performance by Pharrell Williams.
Fallon also grilled Trump in a speed interview, asking about border walls, Carly Fiorina and options for a new campaign song:
https://www.youtube.com/watch?v=Znk9w20xcyI
The Tonight Show Starring Jimmy Fallon airs at 11:35/10:35c on NBC.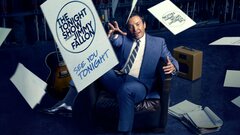 Powered by