What's Worth Watching: 'Difficult People' on Hulu for Wednesday, September 16
Difficult People, "Difficult Christmas" (Wednesday, Sept. 16, on Hulu)
Savoring the barbed-wire humor of Julie Klausner and Billy Eichner in what turned out to be the summer's funniest new comedy, Difficult People, has been a gift that keeps giving week after week. So it seems kind of fitting that the eighth and last episode of the too-short first season takes place amid the generous spirit of Christmastime, though it's not exactly a jolly occasion for these misanthropic and miserably ambitious show-biz fringe dwellers, who we first glimpse stealing food from The Good Wife's craft-services tent when they're not dodging drunk Santas.
Julie Kessler and Billy Epstein (the co-stars' fictional alter egos) desperately want to be comedy stars, but so far they barely qualify as extras. In what on paper seems a surprisingly conventional "very special" holiday storyline, Billy is torn between two dates: performing alongside Julie in their long-awaited club gig at The Cutting Room, or attending his misfit niece's dance recital. The twist: He's been pretending to be his niece's dad to break into the trendy "Gay Dad Mafia" of well-connected show folks. That's how these difficult people roll.
Meanwhile, Julie's hypercritical and impossibly self-absorbed psychiatrist mom, Marilyn (the fabulous Andrea Martin), takes advantage of the holiday "suicide season" by peak-period surge-pricing her emergency phone sessions. She's the Uber of shrinks. Priceless bits like these place Difficult People in the proudly snarky tradition of darkly hilarious urban farces like Seinfeld and Curb Your Enthusiasm. In fact, if Julie and Billy ever crossed paths with Larry David, I'm not sure who would get the last sour word. But I'd like to find out.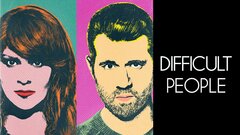 Powered by